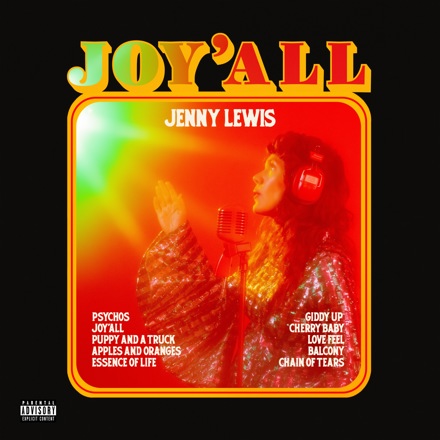 Jenny Lewis
continues her prolific songwriting career with
Joy'All
, the veteran singer's fifth solo album. While country music has always been in her sonic toolbox going back to
Rilo Kiley
, as a recent part-time resident of Nashville, she leans into it further than ever on these new songs. However, Jenny's take on country has always been filtered through her California roots and sensibilities, and that's certainly the case here.
Joy'All
kicks off with the strummy "Psychos," a wry look at dating in your 40s, built around the immediate fan-fave lyric "I'm not a psycho, I'm just trying to get laid." You'd think the great counterpoint harmonies on "Psychos" come from Lewis's long-time collaborators
The Watson Twins
but it's actually Jenny herself teaming up with
Jess Wolfe
of
Lucius
.
The first taste of
Joy'All
was "Puppy and a Truck," released while Jenny was opening for
Harry Styles
on tour because she'd already been playing it every night. The laid-back tune opens with another instant-classic line: "My forties are kicking my ass/And handing them to me in a margarita glass." It's a true-ish tale, as with so many of her storytelling songs, about how she found some direction in her life early in the pandemic by getting her puppy
Bobby Rhubarb
.
Lewis took part in a series of songwriting exercises led by her friend
Beck
during lockdown, trying different prompts and ideas to kickstart the writing process. This led to some of the more sparse and unique songs on
Joy'All
, such as "Love Feel," written around a list of country clichés, while namedropping
Willie Nelson
,
Johnny Cash
and even
Justin Timberlake
along the way (he
is
from Tennessee).
The stripped-back title track is a bouncy, percussive ode to finding your joy. "Giddy Up" is a shuffling mix of auto-tune and alt-R&B influences, with a shout-out to her beloved
De La Soul
("stakes is high") as well. The funky, flirty "Cherry Baby" is another high point of
Joy'All
.
A pivot from her last record, the glossy, L.A.-made
On the Line
, this is Lewis's most stripped-back record since 2006's
Rabbit Fur Coat
. Coming in at 10 songs in just over a half-hour,
Joy'All
feels a little more lightweight and less dense than some of her past work, but that's intentional. Just because the lyrics and arrangements are sparser doesn't mean there's a lot of heaviness and meaning lurking in there, alongside an ongoing quest for joy, be it in a puppy or a partner.
Jenny returns to Philadelphia at
The Met
on July 20th. Hear our interview with Jenny about
Joy'All
On Demand
here.