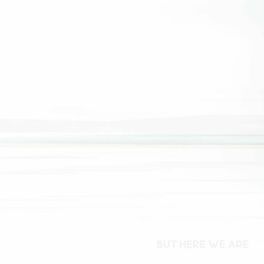 Nearly 30 years ago, following the death of his bandmate, Dave Grohl declared, "I'll stick around/Learn from all that came from it." Unfortunately, history repeats itself on But Here We Are, the tenth Foo Fighters record. On the new album, Grohl not only grapples with the sudden, shocking death of Foos drummer Taylor Hawkins but the loss of his mother Virginia, who also passed away in 2022. The entirety of But Here We Are is a complex meditation on losing two loved ones in succession. It's also the best Foo Fighters record in almost a decade.

Lead single "Rescued" kicks off But Here We Are with a classic Foos sound, capturing the shock of how quickly Hawkins was gone. He's grappling with these emotions further on the moving "Under You," with Hawkins on his mind singing of "Pictures of us sharing songs and cigarettes/This is how I'll always picture you." On the shoegazey "Hearing Voices," he sings that "I've been hearing voices/None of them are you."

The lovely, stunning "Show Me How" is an intergenerational duet between Grohl and his daughter Violet, as their voices intertwine in honor of the family matriarch. Dave sings "I'll take care of everything from now on" but by the end of the song, he's dropped out and leaves his daughter to sing the comforting lyric alone. Truly haunting. "Nothing at All" is another highlight, with its start-and-stop, Police-influenced verses melding with a classic Foos rock chorus.

The last two songs on But Here We Are take the record into special territory, starting with "The Teacher." The longest song in the Foo Fighters' catalog, this 10+ min epic is a suite that also honors Dave's mom (famously a teacher herself) and morphs from a haunting grunge tune to a driving raging rocker. Along the way, a spacy breakdown finds Grohl declaring to "Try and make good with the air that's left/Countin' every minute, livin' breath by breath." Then it's off to the races again with a roaring solo, fuzzed-out guitars, pummeling drums and a blurry final shout of "goodbye!" Closing track "Rest" starts with just Dave and his guitar, intoning "rest, you will be safe now," before exploding halfway through with a big burst of static and drums as a proper farewell to his always-energetic friend.

Perhaps the best thing about But Here We Are is the overall sound of the album. As the Foos' lineup ballooned to six members, their recent records were weighted down by the sound of so many instruments taking up space on every song. Here, the tracks are given room to breathe and the guitar tones hearken back to the late '90s, evoking their classics There is Nothing Left to Lose and The Color and the Shape. Grohl played all the drums on But Here We Are, naturally, and truly gives it his all, as you'd expect.

But Here We Are is all very raw emotions and Grohl has never been the most elegant poet, so the effect here stems from the immediacy of it all. This is how it feels to grieve and process loss from every angle, as a band and a son learn to live (and even to fly) without two of the closest people in their lives.
Bully wastes no time laying down another floorboard to the house of anthemic rock that singer Alicia Bognanno has been building since day one. Still using Bully as the moniker for her solo works (since her last album, 2020's SUGAREGG), Bognanno exercises free reign over what she writes. Due to the recent passing of her best friend and number-one supporter, she has dedicated Lucky for You to Mezzi, her beloved dog. She tweeted, "I wish I had the right words to sum up what this record means to me in a paragraph but I'll never find them so for now I'll just say I love you Mez, this one's for you <3"

But Lucky for You is not a mopey, sad and depressed record; it's the complete opposite, as any Bully fan would hope. She acknowledges the situations that she has been dealt and rather than collapsing into a death spiral, focuses on the positives or necessary action. The opening track, "All I Do" takes off with an upbeat Strokes-y rhythm and her signature gritty, intensely shout-y vocals are layered overtop, looking back on her choice to remain sober, three years strong, capitalizing on the line "I'll never get f*cked up again." Album ender kicks up the punk element, sounding as aggressive and politically frustrated as any Amyl and the Sniffers track, singing about guns, religious hypocrisy, climate change denial, and women's rights with "I won't let a man choose my own body's plan / I'm tired of waiting for change and debating." And the album's lead single "Days Move Slow" is a direct tribute to Mezzi, played out in such a Semisonic / Third Eye Blind 90's style, that it should come with patchouli incense and a coupon for Manic Panic. She moves from bleak depression to optimistic clarity quickly with the lyric "I'm living in the same black hole / but there's flowers on your grave that grow."

On Lucky for You, she has enlisted help from two Nashville friends in producer JT Daly (Pvris), and featured vocalist Sophie Allison (Soccer Mommy) on the clap-along "Lose You." Daly worked with Bognanno to emphasize her sonic attributes in a very radio-ready way. That assistance helped build a song like "Change Your Mind," a contemplation on what could have and what still could be done to save a sinking relationship, into one of the catchiest, momentum-building songs on the record. As if the next chapter in a narrative, "Lose You" sorrowfully looks at the drowned relationship and features the heaviest weighted line, "Time's just a useless measurement of pain."

Okay, so maybe it is not always that optimistic of a record. But the assuredness in Bognanno's voice oozes power and confidence and paints an image that she will not only come out on top but will be better for it. She thoroughly owns it on the aggressive brit-pop banger "Hard to Love," singing "If you think you could love me now / Just wait until you see this out / You'll be gone so quick I won't say goodbye." Sounds like a fitting attitude in a city with the adopted slogan "No one likes us and we don't care."

If you didn't grab a ticket to see her open the blockbuster sold-out Met show with Franz Ferdinand and Pixies this Friday, June 9th, don't fret, Bognanno and company are coming back on September 23rd to headline the First Unitarian Church with the fantastic and eccentric Wombo.

**Donate $15 or more to Y-Not Radio to receive a download of Lucky For You. Click here for details.