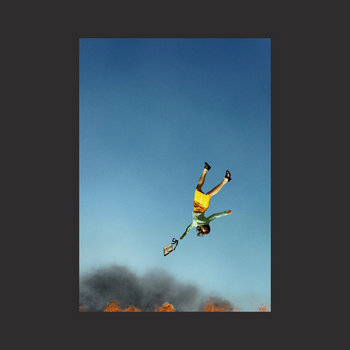 Nine years is quite a long time between albums. Despite the obvious upheaval from COVID, there has been a ton of change for
Karen O
, the guiding force and fashionable face of the
Yeah Yeah Yeahs
. Biggest of all was having a son, now seven, who has greatly guided the theme of their new record,
Cool It Down
.
Cool It Down
is a perfect descriptor for the album. Musically, it is much more a follow-up to Karen's work with
Danger Mouse
on 2019's
Lux Prima
. As a whole, it is a lullaby; a slow-paced dark wave, highly synth experience that literally cools down the Yeah Yeah Yeah's high-octane percussively driving and often manic pop-culture sound. It should resonate with an adult crowd of formerly hip and cool trendsetters, who settle down and throw on sweatpants to go grocery shopping. On the dreamy, album-ending poem-set-to-music, "Mars," Karen proudly describes light intertwining with water in great detail, capping it off with her son's critique of the experience. One can easily picture how this was but one everyday interaction, mined for beauty, becoming a cherished memory.
Change of perspective, whether it be motherhood, or any other eye-awakening experience, has always been one of the big causes of altering one's career trajectory. For Karen, it seems to be wholly positive, but she has not lost the memory of her past. In the delicate and minimal "Blacktop," she softly speaks "Oh, as I was young and easy / In the mercy of his means / Time held me green and dying / Though I sang in my chains like the sea." On the
Pet Shop Boys
-like dark synth number "Wolf," she sings, "In heaven, lost the taste of hell," but she repeats "taste of hell" as if she still yearns to visit on occasion. And they do, on sporadic occasions across the album, revisit their past. The single "Burning" starts off as a piano and throws on strings to complement her familiar emotional vocals and turns up the dance floor potential borrowing its melody from
The Four Seasons
' 1967 song "Beggin'." "Fleez," with its
Blondie
-ish verse and squeaky-sneakers-on-court synth, coupled with heavy bursts of buzz, is perhaps the closest track to recalling the all-night dance parties of old.
But being sentimental is not where Yeah Yeah Yeahs are, nor where they plan to be. The track "Different Today" is a light, repetitive synth-y string number placing the listener directly in the present, reflecting on mortality and how important it is to not waste any more time. If anything, Yeah Yeah Yeahs want people to look to the future and take accountability.  The opening track and first single "Spitting Off the Edge of the World," a team-up with
Perfume Genius
, looks at what our generation has (or really, hasn't) done to halt climate change, leaving no viable option for her son and future generations to deal with. She sings of the bleak future "Never had a chance / nowhere to run…and the kids cry out / We're spitting off the edge of the world" because that's all they can do.
**Donate $15 or more to Y-Not Radio to receive a download of Cool It Down. Click here for details.
Utopia
couldn't last. It never does. What goes up must inevitably come back down to Earth. We all already knew this when
Björk
released her last album back in 2017, though none of us could have anticipated how hard reality would come crashing back this time. It's easy to forget that even before the world was forced to stand still for a year and a half, life insisted on moving forward. People grew up. People died. Björk's mother died. Her daughter left the nest. In the midst of so many drastic life and world changes, she found comfort and inspiration in lockdown raves that she hosted in her living room with close friends. Those raves became the inspiration for the album that would document those changes and the search for meaning within them. Its title translating to "she who digs,"
Fossora
fittingly finds Björk mining the depths of life, love, and loss that defined her previous two albums while achieving a more accessible equilibrium between their highs and lows. The result is a living, lived-in tour de force.
In true Björk fashion, her emotional themes are dressed in deceptively whimsical clothes. A recurring metaphor of mushrooms and fungus spreads throughout the album, a surprisingly apt mirror for our own life cycles and the need to grow outward to connect with the world and find roots. The barriers that we build to prevent said connection are laid to waste in opening track/lead single "Atopos," where Björk asserts that "if we don't grow outwards towards love, we'll implode inward towards destruction." For the first time in years, her beats hit as hard as her truths. Inspired by the techno subgenre known as Gabber, they jab, jackhammer, and juxtaposition themselves against her arrangements with a positively
Homogenic
sense of confidence and cohesion.
The echoes of past peaks don't end there, as
Fossora
finds ways to revive and reinvent all of the best ideas of Björk's latter-day catalog. The elastic vocal harmonies recall
Medulla
, particularly in early interlude "Mycelia," which reveals a subtle but strong lineage between Björk and experimental club composer
Holly Herndon
. The fanciful flutes of
Utopia
take flight again over "Allow", a duet with fellow Scandinavian pop siren
Emilie Nicolas
that chronicles the yearning for growth from the perspective of plant life. Woodwinds still hold court across the album overall, but this time, it's bass clarinets that do the heavy lifting, all the better to match the oomph of the electronics. In addition to Nicolas, fellow
Transmission
vet
serpentwithfeet
and Gabber guru
Kasimyn
make this the most feature-heavy Björk release since
Volta
, but this time the features deepen rather than distract from the message.
Other features even come from Björk's own children, who help extend and round out the themes of family that informed
Vulnicura
. Where that opus was about romantic loss,
Fossora
explores the parental kind. Son
Sindri
joins his mother on "Ancestress", about the passing of Björk's mother, environmental activist
Hildur Rúna Hauksdóttir
, back in 2018. Its sighing, soaring seven minutes eulogize her life and love while grappling with how they contextualize her daughter's own life and legacy. Closer "Her Mother's House" flips the perspective from orphaned child to empty nester as Björk's daughter
Ísadóra
receives and responds to her promises to love and hope for her as she moves out on her own. A beatific coda in the vein of "Headphones" or "All Is Full Of Love", it brings the album's central thesis, introduced in the climax of "Atopos", full circle: "Hope is a muscle that allows us to connect."
Fossora
is an exceptionally elegant exercise of that muscle, as well as a flex of Björk's ever-strong musical ones. May listeners old and new be able to connect with her, themselves, and each other through it.