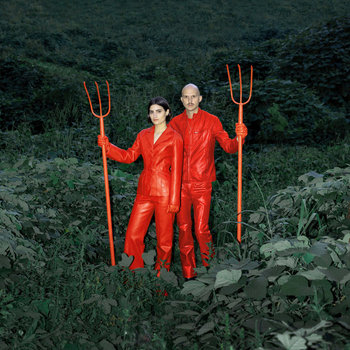 Mattiel
, the duo of
Mattiel Brown
and
Jonah Swiller
(yes, they're one of those groups named after the lead singer, but are actually a band), have returned with their third full-length album
Georgia Gothic.
The title brings to mind the spookier side of the Peach state and the south, perhaps a la
R.E.M.
's famous kudzu of
Murmur
. However, the devil costumes in the album art aside, these 11 new songs are far from gloomy or ominous.
Mattiel's music has primarily been defined by Brown's reverb-laden vocals, which bring that slight retro edge to their songs. However, she takes the opposite tact on lead single, "Jeff Goldblum." You wouldn't even realize it was her voice at first in this smoother indie pop setting as she tells the tale of a quick encounter with a lanky crush whose stature reminds her of the beloved actor.
On the other hand, Brown belts out "Lighthouse," a horn-driven declaration of her offer to be someone's port in a storm. The swaggering "Wheels Fall Off" and appropriate album closer "How It Ends" find Brown rapping over guitars reminiscent of solo
Jack White
– an early champion of the band. (P.S. – if you've never heard Mattiel's cover of
Beastie Boys
' "Looking Down the Barrel of a Gun," you need to).
Georgia Gothic
adds different touches to the duo's core sound of Brown's croon and Swiller's guitars. "On the Run" brings a dusky twang while "Subterranean Shut In-Blues" adds a funky feeling. And yes, of course, the latter liberally references
Bob Dylan
, while the title could be a reference to COVID-era safety. Meanwhile, the twisty, jazzy "Boomerang" takes us on a quick trip up to New York City.
Much like 2019's
Satis Factory
, at no point does
Georgia Gothic
truly go south. Brown's lyrics may be a bit opaque at times but far from "goth."
Georgia Gothic
is far from gloomy, but full of life. And as someone once said, life finds a way.