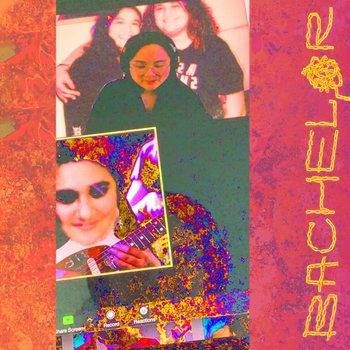 "Two great tastes together as one!" the old saying goes, and that's just how one could sum up the indie-rock duo of
Bachelor
. In 2017,
Melina Duterte
 (
Jay Som
) and
Ellen Kempner
 (
Palehound
) met during a co-headlining tour in support of each other's most recent albums. A friendship naturally developed and in pre-pandemic 2020, they collaborated for two weeks in a rented California house. While Melina and Ellen both have a similar indie aesthetic, they each bring a different set of cards to the table. Palehound leans more toward an acoustic vibe, while Jay Som utilizes fuzzed-out electric guitar. The resulting output is
Doomin' Sun
, 10 songs of hazy, sexy songs with hints of psychedelia and a generous dose of 90's female alt-rock influence (think
The Breeders
 or
Bettie Serveert
).
Aside from a little help on drums by Big Thief member James Krivchenia and a string arrangement from Annie Truscott of Chastity Belt, everything is ably handled by just the two of them. The musicianship and songwriting are sparse and gorgeous, and the guitar work is exquisite. Like much of the album, "Spin Out" deftly straddles distorted and discordant electric guitar glaze with softly strummed acoustic guitar, evoking the "slow burn" mentioned in the lyrics. Likewise, "Anything At All" practically comes to a screeching halt near the end, sauntering back onto the opening crawl. Vulnerability pervades much of the lyrical output on display here and they are never afraid to confront their emotions, especially on "Sick of Spiraling," which finds the narrator confessing, "I'm scared out of my mind and I need your love."
"Stay in the Car" tensely walks the slippery slope between people-watching and stalking, and on the closing title track, the duo defies the threat of climate devastation with the bond of friendship and a devastatingly beautiful acoustic guitar melody.  It speaks volumes to the fact that all of these songs are an equal representation of their individual strengths, a truly collaborative effort. While some of us may be the first in line for the next Jay Som or Palehound records, others may already be craving more from Bachelor. Don't miss their multi-guested live stream Doomin' Sun Fest on June 10th.

**Donate $15 or more to Y-Not Radio to receive a download of Doomin' Sun. Click here for details.