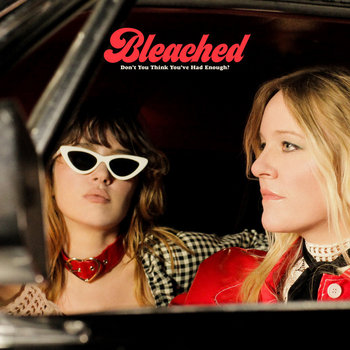 The new album from 
Bleached
 has sisters 
Jennifer
and
Jessie Clavin
 looking through the bottom of an empty glass and realizing it is time to listen to the voice in the back of their heads saying, "don't you think you've had enough?" After years of losing touch with themselves and not getting along with the people they had become, they needed change. The sisters chose sobriety, pouring their concentration and revitalized energy into this record. They forced each other into daily regimented writing schedules and returned to their roots, relying heavily on each other to craft the music, melodies and lyrics.
Don't You Think You've Had Enough? 
continues their 70's 
Joan Jett
 rock and roll filtered through Sunset Strip cruisin' vibes. However, clear thoughts and minds offer a mature growth. Urgency has been replaced with depth and genre soldering. The heartbreak album-ender "Shitty Ballet" fuses vulnerable acoustic punk harmonies with a brief stint of in-your-face full-band rock. "Valley to L.A." fondly reflects on naïve rebellion and serves up a bit of 
Jenny Lewis
 country rock with its fluttery vocals. "Hard to Kill" treats the listener to a zombie disco with echoing background vocals, funky bass, and jangly guitars, while recalling a former life of brainless self-harm. And "Kiss You Goodbye" comes from a similar disco vein, ushering the listener away from destructively addictive tendencies with strutting authority.
In fact, all the songs on here paint an emotional portrait of living in Los Angeles and overcoming the false security that drugs and alcohol offer. The songs themselves could serve as chapter titles in an addict's intervention/self-help book: "I Get What I Need," "Hard to Kill," "Heartbeat Away" "Somebody Call 911," "Rebound City" and "Real Life." Even the rockin' "Daydream" embraces the recovery stage of understanding and recognizing toxic desires while singing, "It's really just a dead-end dream again / Always thinking 'bout the past / what's the point of that?"
Looking forward in a positive, life-affirming mindset is a nice look for Bleached. They have always put on fun, danceable shows with their sing-a-long choruses and when they come back to Philly's 
PhilaMOCA
 on Friday, September 20th, it should be no different. Just this time, Jessie and Jennifer will be having fun, too. 
 (Enter to win tickets here.)
**Donate $20 or more to Y-Not Radio to receive a copy of Don't You Think You've Had Enough?. Click here for details.