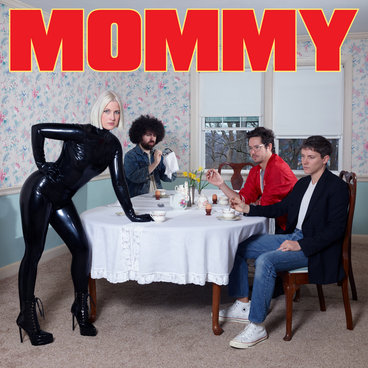 Be Your Own Pet
made a splash in the mid-'00s as youthful garage punks full of endless enthusiasm and brash, bratty rock. The Nashville band was co-signed by
Sonic Youth
and made their mark with a raucous live show. But a band that raw and energetic wasn't built to last forever and burned out by the end of the decade. Singer
Jemina Pearl
released a blast of a solo album in 2009 but the members essentially retreated from the spotlight before a surprise reunion last year to open a few shows for
Jack White
. (Pearl is married to White's longtime
Third Man Records
business partner
Ben Swank
). That led to writing and recording new music, bringing us to
MOMMY
, the first new BYOP album since 2008.
Be Your Own Pet sound like grown-up punks on
MOMMY
… and that's a good thing. Their early songs were about food fights and being bicycle-riding menaces. Now they write songs like "Worship the Whip," a scathing takedown of right-wingers who love being subjugated by the very fascism they claim to hate. In their youth, the band played with horror movie imagery and bragged about partying, but now Pearl is confronting adulthood head-on. "Goodtime!" is Pearl's reaction to being a mom with kids experiencing FOMO. She realizes "I've got two kids and a mortgage, what the f**k?" and declares "I don't want to be left behind/When everyone else is having a good time."
Pearl also addresses the sexism she faced in the band's early days, confronting it years later. On "Hand Grenade," Pearl is wiser and standing up for herself in ways she couldn't as a teen. She asserts, "I'm not your victim, I'm my own person/I'm not some casualty, I set myself free." In "Big Trouble," she also tackles her past, singing, "They ask, why so angry/When you've got such a pretty face?/Won't you just shut up?/When you gonna learn your place?" before proclaiming "it's not just one fight/It's been my whole lifе" then rattling off a list of societal demands, including abortion rights and equal pay. It's no-nonsense, clear-eyed feminism that she didn't have 15 years ago but embodies in 2023.
There's more of a classic riot grrl attitude in this incarnation of BYOP that wasn't present before, with the chance of
The
Runaways
' "Cherry Bomb" blowing up at any moment.  "Erotomania" and "Never Again" are more muscular rockers that owe more to '70s hard rock riffing and fit alongside
Amyl & the Sniffers
or
Sheer Mag
. And the slinky, strutting "Rubberist" is seemingly an ode to wearing vinyl (see: the album cover).
MOMMY
closes with "Teenage Heaven," a twinkling, reverb-heavy
Best Coast
or
Alvvays
-style retro-ballad where Pearl asks, "Do you wanna go to teenage heaven tonight?" Is it a wistful look back at their glory days or an ode to the next generation? Either way, it's a wonderful, surprising way to close out their return to the spotlight.
For a comeback album that no one expected,
MOMMY
is a triumph, a statement and one of the best rock records of 2023. Be Your Own Pet return to Philadelphia for the first time in over 15 years at
Underground Arts
on October 22nd.