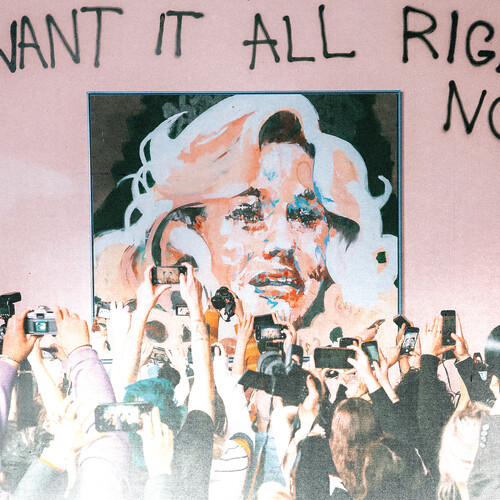 We last heard from
Grouplove
in 2021 with their surprise release
This Is This
– which seemed like a contractual obligation, and that was likely the case as the veteran alt-pop band has a new home of
Glassnote
for their sixth record,
I Want It All Right Now
.
The label may have changed but the band, led by married co-singers
Christian Zucconi
and
Hannah Hooper
, are still making enthusiastic tunes capturing big feelings and emotions.
Opener "All" sets the table with the album's title appearing in the chorus -  "I wanna have a good time, wanna be fine wine/I want it all right now" – though it isn't about chasing pleasure here. Zucconi says they're actually asking why we always want more when we may have everything we need already. And what does it mean to have it "all" anyway? Those are the questions Grouplove were pondering while writing
I Want It All Right Now
. The pulsing rocker "Malachai" is a highlight of the record, with Hooper on lead vocals full of longing and despair. She asks, "I'm suffering… So who's gonna help me? Who's gonna save the day?"
I Want It All Right Now
is full of the widescreen production Grouplove is known for, especially on the big lead sing-along single "Hello," where they're looking for connection. It's all first names and one-word song titles here, with the lighter-waving ballad "Billie" and grooving "Tryin'," a call to keep on fighting, among the highlights. "Francine" is full of knotty guitars and electronics as the band asks, "Can you believe it?/Life is so fleeting/Everyone is here now/Then everyone is leaving." Grouplove believes in the power of positivity no matter what you're going through, and on the driving "Climb," they're here to cheer you on.
I Want It All Right Now
may be a new chapter in Grouplove's career but it doesn't break any new ground in their world. However, it's definitely another worthy addition to the veteran band's catalog of high-energy songs and heightened emotions.
Grouplove will be in Philadelphia as part of hometown hero
P!nk
's
Summer Carnival
tour at Citizens Bank Park on September 18th and 19th.