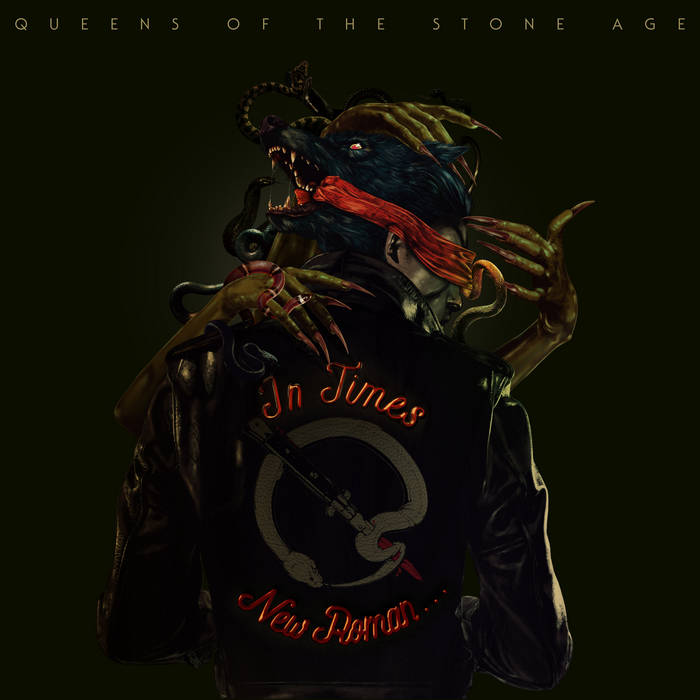 It's been a few dark years for
Queens of the Stone Age
main man
Josh Homme
. He was involved in a highly public and very unpleasant custody battle and separation from his ex-wife,
Brody Dalle
of
The Distillers
. His brothers in rock and roll,
Taylor Hawkins
and
Mark Lanegan
, passed away. And he recently revealed he had undergone treatment following a cancer diagnosis as well. Homme channeled all of this pain and more into the first new album from his band in six years,
In Times New Roman
…
The album kicks off with the strutting rocker "Obscenery," where Homme declares "Consequences, schmonsequences" amidst laser guitar sounds. "Paper Machete" is clearly a scathing shot at his ex-wife, with the damning lyric "in sickness, no vows mean anything." Amidst some of the best guitar work on the record, Homme declares, "You think you're brave? / All the plans you made / Behind my back and from far away? / Truth is, face to face, you're a coward / Sharp as a paper machete."
Homme is all-in on the clever wordplay and mashup titles, more so than ever, on
In Times New Roman…
, where we get "Paper Machete," "Carnavoyeur," "Emotion Sickness" and "What the Peephole Say."
The dark strut of "Made to Parade" is a takedown of capitalism and societal ladder-climbing while album highlight "What the Peephole Say" is a fast-paced boogie full of paranoid ravings with some outstanding bass playing from
Michael Shuman
.
Homme says the music for
In Times New Roman…
was all recorded a while back but he couldn't bring himself to put down vocals until late last year. He seems to find some sort of peace in his situation in "Carnavoyeur," in which he sings, "When there's nothing I can do/Accept, enjoy the view."
Slippery lead single "Emotion Sickness" also tackles his divorce, with the chorus of "Baby don't care for me / Had to let her go," as Homme notes that "People come and go on the breeze / For a whole life? Possibly." It all comes to a close with the surreal "Straight Jacket Fitting," a nine-minute long suite looking around the state of our decaying world and making comparisons to the Fall of Rome (hence the font pun of the album title). Homme asks, "What can you do?/We're all alone in times new Roman, no allegiance," coins another punny phrase with the line "To seize all your demons, carpe demon," and sadly admits that "The old world melts like a candle a-flickering out / Still so much to lose and I've already lost so much."
For the most part,
In Times New Roman…
doesn't break any new musical ground for QOTSA. Homme and friends stick to their now-iconic heavy grooves and haunting harmonies. But for these times, it's essentially what you want out of a Queens record.
Queens of the Stone Age return to Philadelphia at
The Mann Center
with
Phantogram
opening up on August 8th.