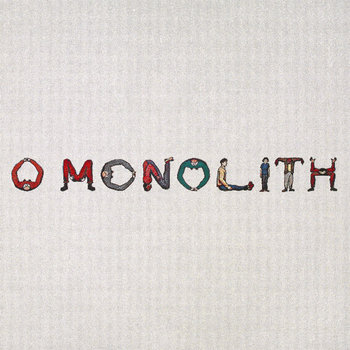 Of all the arty, off-kilter post-punk-influenced bands to emerge from the British Isles to international acclaim over the last five years,
Squid
are the artiest and most off-kilter. Their musical approach is almost deconstructionist as the five-piece turn expected structures and melodic lines inside-out to their own knotty ends. Their instant-classic debut, 2021's
Bright Green Field,
was filled with jumbled observations, unpredictable instrumentation, and occasionally dub-inspired production. Luckily, their new album,
O Monolith
, doesn't sand down any edges and it demonstrates that the band can successfully utilize their experimental spirit to explore new sonic textures and lyrical themes.
If
Bright Green Field
generally examined urban paranoia (albeit in abstract fashion),
O Monolith
is a harder record to pin down lyrically. "Devil's Den" contains folk horror imagery while "Undergrowth" has lead singer/drummer (cool combo!)
Ollie Judge
shouting about how he would "rather melt away" than stay "ergonomic for the rest of my days." "Undergrowth" also stands out instrumentally with its bouncy groove and the punctuations of brassy noise courtesy of
Laurie Nankivell
. The layers of this epic track perfectly demonstrate Squid's immense skills as a cerebral, but impactful band.
Only two songs, "Swing (In a Dream)" and "Green Light," really aim toward conventionality and the band works well in this mode also. Both tunes feature great hooks and a driving energy that should appeal to fans of
Gang of Four
and
Bloc Party.
On the other hand, the vocoder-filled "Siphon Song" feels like an exercise rather than a fully-formed song. Yet, the desire to remain diverse stylistically is appreciated even if the result doesn't match the ambition.
Through just two albums and a few singles, Squid have proven themselves to be a risk-taking force in British indie rock.
O Monolith
is composed of challenging, but fascinating music that updates the spirit of bands like
The Fall
and
Wire
for our confusing, contemporary moment. It's a great second album, avoiding the dreaded "sophomore slump" with its further exploration of the outer counters of guitar-based music.
Squid will be performing at
Union Transfer
, but not until Friday, February 9th, 2024.