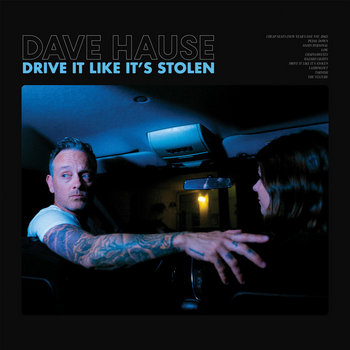 Philadelphia native
Dave Hause
has spent nearly 20 years chronicling and capturing life in America, with
The Loved Ones
and as a solo artist. As a husband with twin children, Hause may have settled down but certainly not settled his itch for songwriting. On his sixth solo release,
Drive It Like It's Stolen
, Hause gets out his anxiety about the state of the world via some of his most textured tunes yet.
The idea of escape in one form or another is all over
Drive It Like It's Stolen
, as the songs' narrators are hopping in cars both real and metaphorical on "Pedal Down," "Hazard Lights" and the title track. On "Pedal Down," Hause is on the move trying to escape the darkness that surrounds us all today while questioning the world his children have been brought into: "We lead our lambs to slaughter/It's profit, bootstraps and guns/Every god needs a sacrifice/Honey what have we done?" The acoustic "lashingout" is a portrait of being trapped in a suburbia of "Craftsman houses, cul-de-sacs, nativities on the lawn/Paper planes and soccer games and stay-at-home moms" and itching to do something about it.
"Damn Personal" is a straightforward rocker paying tribute to those we've lost, including Boston musician
Mike Gill
of the band
The Damn Personals
. And "Low" is a sturdy rocker stuck in the deep thoughts of depression, asking a partner the all-important question, "Would you love me when I'm low?"
Hause comes from the
Springsteen
-indebted east coast punk rock storyteller lineage but experiments more than ever with unique sonic textures on
Drive It…
While those evocative
E Street
keys and chimes show up on "Low," "Hazard Lights" and elsewhere, there are ominous strings and tasteful horns that appear through the tracks as well, adding extra colors to these songs. Most notably, the string section builds the mood on "chainsaweyes," a treatise on toxic masculinity and trying to raise boys to be men in America.
Drive It Like It's Stolen
wraps with "The Vulture," a straight-ahead rocker that keeps moving, imploring "row, row, row the leaky boat, boys, life is but a dream." No matter what the mode of transportation may be, Dave Hause is going to keep driving it like there's no tomorrow while chronicling the ride for us all.