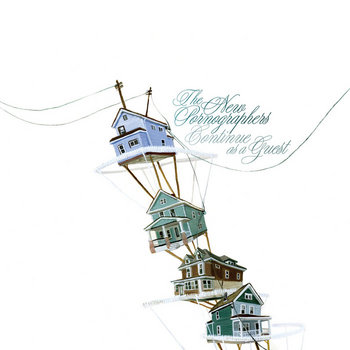 Took a long drive today to revisit
The
New Pornographers
' first two albums,
Mass Romantic
and
Electric Version
. While it is hard to believe that those albums were released 20+ years ago, one thing became clear:
AC Newman
and his assembled "supergroup" of Vancouver musicians had more hooks than they knew what to do with. Most of those early songs strung together 3-4 catchy, head-spinning segments where each section was strong enough to support its own song. Now older, wiser, and sheltering in place, AC Newman has pumped out ten new tracks for The New Pornographers to piece together (mainly via isolated self-recordings). Each song on the new ninth album
Continue as a Guest
spends time evolving singular ideas; focusing, drawing out and then breaking them down in a sparse setting, rather than burning through a litany of musical ideas.
There is a general dark and menacing tone that blankets the album, partially from the 80's
Top Gun
/
Miami Vice
-like back-alley saxophone played by album contributor
Zach Djanikian
(who also plays guitar, bass, and does a bit of engineering). Darkness permeates the title track, with its synthy, backing bass and on "Angelcover," the looping synth melody pairs sinisterly with Newman's deadpan, cold wave vocal delivery. More than anything else, it is Newman's dedication to a reserved vocal performance that sets this record apart from the rest of their catalog. In the album's announcement, he noted, "For a long time, I felt like the idea of changing a song because I couldn't hit a note wasn't okay—I could just get someone else to sing it. But I'm learning now that my songs can actually be a lot more malleable than I thought." "Fireworks in the Falling Snow," a song Newman wrote with the help of
Sadie Dupuis
of
Speedy Ortiz
, puts his delicate, sedated vocals on display. "Bottle Episode" has strong potential to kick in with a bombastic hook as it builds momentum, but it chooses to focus on the established light melody.
The one exception to the rule is opener "Really Really Light." It is the one track with drive and tone paralleled on their recent records. That is for good reason, as Newman wrote it around a
Dan Bejar
cutting room floor chorus from the
Brill Bruisers
era. The album also really shines when
Neko Case
takes over on lead vocals. "Marie and the Undersea" starts as an underwater electrotrack evoking
Stereolab
, but transitions to a folky, echoing
XTC
Mummer-
era chant in grandiose execution. And her other track, "Cat and Mouse with the Light" is a light and wispy track with a rolling melody that feels specifically designed to showcase her vocals. It never kicks in either, but it is here where the listener realizes that this album of songs was never designed to do that, and furthermore, doesn't need to.
The album is an experiment in minimalism, something that seems quite uncommon to be a theme for The New Pornographers. But who can fault a collective that's been driving at full, sugary speed for over two decades, particularly when encountering a life-halting pandemic that moved all social interactions online. It's no wonder a bit of an ominous tone oozes through the pores of this relaxed, stripped-back collection of tracks. Let's all check out how/if their live show has been affected when they play
Union Transfer
on May 18th.