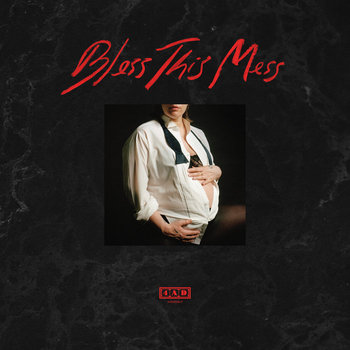 Art pop is having a moment right now. The rather nebulous subgenre, which could be roughly defined as fun, danceable music that aims for the mind as well as the hips, has been used to describe some of the most acclaimed artists of the past several years such as
Japanese Breakfast
,
FKA Twigs,
and
Caroline Polachek
. One of the best current practitioners of art pop has to be
Meg Remy
, who records, with the help of occasional collaborators, under the moniker of
U.S. Girls
.
Her distinctive voice, both as a singer and a songwriter, always fascinates and her streak of impressive albums continues with
Bless this Mess,
a great fusion of the personal, political, and playful.
Bless This Mess
stands out among Remy's work with its electronic sheen. Her previous album, 2020's
Heavy Light,
was recorded with a full band in a studio in a week, but due to a combination of the pandemic and Remy's pregnancy, her newest work was recorded at home in stages. Rather than take a lo-fi approach, Remy fills her latest collection with MIDI synthesizers and sequencers, which perfectly suits the tech-centered themes of songs such as "Screen Face." There's a freedom and experimentation to much of the album with tracks like "Just Space for Light" and "Pump" (which is the song most directly related to bodily change and childbirth) featuring odd structures and unique sonic touches.
Yet, the album's boldest and most triumphant moment is "Tux (Your Body Fills Me, Boo)," a cheeky disco epic narrated from the perspective of an overlooked item of formalwear hanging in the closet. There's equal parts bliss and knowing absurdity in lyrics such as "I know it may not feel quite right / but put on your bowtie tonight" and when married to the infectious soundscape, the result is a jam that belongs alongside
Robyn
and
LCD Soundsystem
on the soundtrack of the best elder-millennial dance parties. Other songs, which vary greatly in style and tempo, on the album are filled with the wit, anger, and honesty that have characterized Remy's previous music. The production may be slicker, but her satirical and confessional edges remain intact.
Meg Remy and U.S. Girls continue to be a true (Canadian) original as the genre-hopping
Bless this Mess
throws out the rule book without coming across as difficult or pretentious. The depth of Remy's creativity is rare in contemporary music, pop or otherwise. No matter what happens in the world or to Remy's personal life, you can place a good "Futures Bet" that the resulting music will inspire a trip to the dancefloor, a Wikipedia deep dive into a mythological reference, or both.
U.S. Girls will be playing at
The Foundry
on Saturday, April 15th.