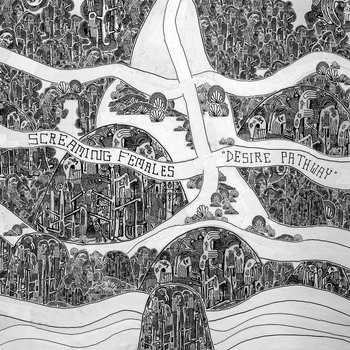 For a band as hard-working and prolific as
Screaming Females
, it's surprising to realize the power trio hasn't released a new album since 2018. It turns out the New Jersey-slash-Philly trio actually wrote most of their eighth record
Desire Pathway
way back in the pre-COVID times but the pandemic put their plans for the music on hold. Singer/guitarist
Marissa Paternoster
put out a solo record in the meantime, but when the band was able to reconvene, they recorded and rocked out the material they'd been sitting on for a few years rather than totally starting anew.
Album opener and lead single "Brass Bell" is built around Paternoster's iconic pummeling riffs, capturing the intensity of the relationship described in its lyrics. "Desert Train" heads off on a wild ride driven by her buzzing guitar and
Jarrett Dougherty
's drumming, with a chorus of "Forget my name/I'm a freight train in the desert dragging chains," which is some incredible,
Iggy Pop
-esque rock lyric imagery.
Paternoster says many of the
Desire Pathway
songs were written in response to a breakup. Her solo album
Peace Meter
was a breakup record too so presumably she had a lot to say about the situation. The dark, pounding "Let You Go" clearly fits this category, as she sings, "Now the stage is empty and I am too." The stripped-down, haunted "So Low" lays its emotions bare as well, asking "If I burn the house down, could I stay? Would you keep me anyway?"
Album highlight "Mourning Dove" is a grooving, poppier rocker which Paternoster told
Spin
is "about being profoundly in love while simultaneously being profoundly heartbroken" while "It's All Said and Done" takes some twists and turns with the rhythm section leading her guitar down some wild pathways. The band plays around with different echoing effects on the epic "Let Me Into Your Heart," before the whole record wraps with the powerful closer "Titan."
Desire Pathway
is Screaming Females fully focused on doing what they do best. Paternoster's guitar work is as muscular as ever though there are fewer wild, exhilarating solos in total. Regardless, this is a portrait of a band fully confident in who they are and what they desire.