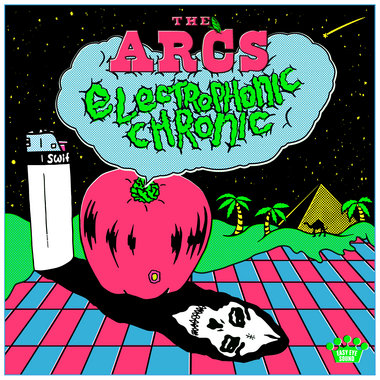 Of all of the non-
Black Keys Dan Auerbach
projects,
The Arcs
feels the least interested in pleasing a wider audience. The band is essentially an excuse to just explore sounds and grooves with talented friends, some of whom are affiliated with the neo-soul revival scene around Daptone Records. Sadly, one of those friends, musician/producer
Richard Swift
(who was also a touring member of the
Black
Keys) passed away of complications from hepatitis in 2018. Interestingly, most of their sophomore album,
Electrophonic Chronic
, was recorded before Swift's
passing
and the record was only finished years later as a tribute to his memory.  While there is melancholy in certain places, the album is more easygoing than solemn or dour.
The first thing that stands out on
Electrophonic Chronic
is the immaculate production by Auerbach
and fellow Arc
Leon Michaels.
There's a lot of reverb and cool fuzz on the guitar work and the frequent use of organs and horns adds to the R&B-meets-psychedelia sound that characterizes many of the songs. Auerbach
is also in top form as a vocalist utilizing his whole range to capture the right emotion for each individual line. From a hooks perspective, the opening trio of "Keep on Dreamin'," "Eyez," and the playful "Heaven is a Place" are the highlights. These songs feel simultaneously modern and retro and effectively demonstrate the band's strong musicianship and smart list of influences. Meanwhile, the closing ballad, "Only One For Me" is quite poignant, with Auerbach powerfully delivering lyrics such as "No one's gonna make me feel much better / and stay with me through all the stormy weather." Otherwise, much of the album coasts on vibes, which can lend a sameness to some of the tracks, but there is always a lot to admire about the skill of the playing and the production.
Ultimately,
Electrophonic Chronic
is an enjoyable listen with a nice mix of rootsy textures and spacey atmosphere. It's a fitting tribute to Swift
and while no song has the anthemic power of hits like "Gold on the Ceiling" or "Howlin' for You," the album will be appealing for those who have
Otis Redding
and
The Byrds
in the same record collection as The Black Keys.