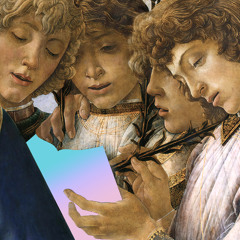 French band
Phoenix
has been making blissful indie-pop music for close to 25 years. They're also one of the few groups in which the members have maintained relationships beyond the music, having been friends since primary school. Claiming that all four members of the band are on equal footing when it comes to contributions, lead singer
Thomas Mars
notes that it was difficult to start their seventh album while he was isolated in the U.S. during early COVID. "Winter Solstice," on their latest album entitled
Alpha Zulu
, is the only song where Mars recorded the vocals on his own. Eschewing their typical sunny disposition, it's a darker, brooding track that allows room for some catharsis. As lockdowns receded, all four members finally reconvened in a storage area turned studio in a museum associated with the Louvre. Here, surrounded by magnificent pieces of art, Phoenix's creativity soared.
Alpha Zulu
is their first self-produced record; usual producer, collaborator, and unofficial 5th band member
Phillipe Zdar
passed away in 2019. Album closer "Identical" is dedicated to Zdar and was also featured in the 2020 film
On The Rocks
, written and directed by Mars' wife
Sophia Coppola
(it's not the first time Phoenix has contributed to a Coppola film, and probably not the last). This version is longer and further develops the sonic structure that builds through the first verses and eventually drops with a breathtaking chorus. Meanwhile, the opening title track starts off with a bit of retro-futurism before setting the tone for the rest of the album. It's a fun, danceable banger capped off with some sing-songy "woo-ha's". "Tonight" follows up with an equally peppy beat, punctuated with chiming guitars and soaring synths, the closest thing to sounding like a traditional Phoenix song. It's also the first time they've ever invited a collaborator, with
Ezra Koenig
of
Vampire Weekend
taking that honor. On "After Midnight," Phoenix continues to wear an 80's alt-rock influence on their sleeve. Is it evident in the lyrics of the second verse? "My memoriеs, souvenirs, some originals, High up in the rows, Idolizеd, canonized."
The effervescent second act starts with the
Pet Shop Boys
-esque "Season 2," perhaps a nod to our streaming society. "Artefact" channels their U.S. contemporaries
The Strokes
, and a groovy electronic vibes pulses through "All Eyes On Me." Mars and his mates (
Laurent "Branco" Brancowitz
,
Deck D'Arcy,
and
Christian Mazzalai
) are clearly choosing to burst out of the last few difficult years with joy and panache. Not too many French bands break through in the indie world.
Daft Punk
and
Air
have achieved similar success (the former quite globally), and Phoenix takes bits from both of those acts to create a band that mixes pop and electronica to great effect. After seven uniquely related albums, Phoenix indicates that the future is incredibly wide open.