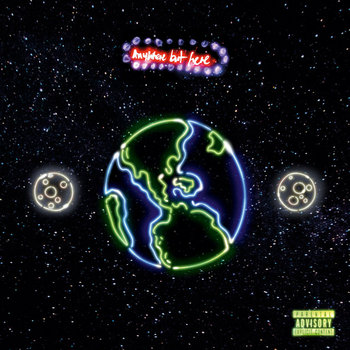 We were introduced to
Sorry
in early 2020 with their horn-laden,
Tears for Fears
-quoting single "Right Round the Clock" off their debut album
925
. The record showcased the UK band's mix of dark, woozy rhythms and lyrics that blended a moody atmosphere with a lurking playfulness. Singers
Asha Lorenz
and
Louis O'Bryen
layered their voices on top of each other to create this vibe with great success. Now they're back with
Anywhere But Here
, a sophomore record that smooths out some of their quirks for a more straightforward, yet darker, collection of songs.
Anywhere But Here
begins with the push-pull dynamics of lead single "Let the Lights On," kicking off the record with a bit of a love song before things get a bit bleaker. "Key to My City" is lost in a post-breakup fog. Lorenz sings that "You are the key to my city" but "I know that you're sitting in the cinema / With someone else's arm 'round your neck" and "Go and have another hot girl affair." They throw in a nod to
Cat Stevens
' classic "Wild World" along the way for good measure.
Rather than piling vocals and guitars on top of each other, the band opts to change things up mid-song numerous times on
Anywhere But Here
, with "Tell Me" starting sparse as the guitars get wilder and weirder throughout. The band visits the U.S. on "Baltimore," another tune that switches tempos well into the song with a surprise guitar solo. "Step" is built around a herky-jerky groove that isn't far off from
Queens of the Stone Age
but on a smaller scale. Elsewhere, the playful naughty strut of "Willow Tree" feels like the Sorry we met on
925
and horns and strings appear to boost the music a bit, a la the violin in the observational "There's So Many People That Want to Be Loved."
Too many songs on
Anywhere But Here
miss the interplay of both Lorenz and O'Bryen's voices intertwined and just sit in a mid-tempo downbeat guitar, missing the uniqueness of
925
. Perhaps the band got some of their more left-field impulses out on the
Twixtustwain
EP last year or at least pushed them further back into the mix. That said, Sorry are still making a more intriguing mode of British alt-rock you likely won't hear anywhere but here.
Sorry are set to play
Johnny Brenda's
on November 8th.