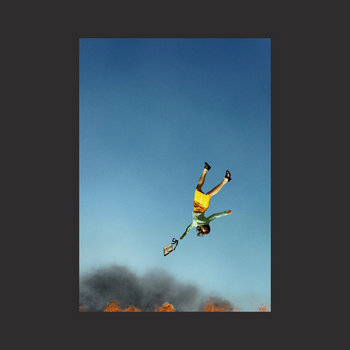 Nine years is quite a long time between albums. Despite the obvious upheaval from COVID, there has been a ton of change for
Karen O
, the guiding force and fashionable face of the
Yeah Yeah Yeahs
. Biggest of all was having a son, now seven, who has greatly guided the theme of their new record,
Cool It Down
.
Cool It Down
is a perfect descriptor for the album. Musically, it is much more a follow-up to Karen's work with
Danger Mouse
on 2019's
Lux Prima
. As a whole, it is a lullaby; a slow-paced dark wave, highly synth experience that literally cools down the Yeah Yeah Yeah's high-octane percussively driving and often manic pop-culture sound. It should resonate with an adult crowd of formerly hip and cool trendsetters, who settle down and throw on sweatpants to go grocery shopping. On the dreamy, album-ending poem-set-to-music, "Mars," Karen proudly describes light intertwining with water in great detail, capping it off with her son's critique of the experience. One can easily picture how this was but one everyday interaction, mined for beauty, becoming a cherished memory.
Change of perspective, whether it be motherhood, or any other eye-awakening experience, has always been one of the big causes of altering one's career trajectory. For Karen, it seems to be wholly positive, but she has not lost the memory of her past. In the delicate and minimal "Blacktop," she softly speaks "Oh, as I was young and easy / In the mercy of his means / Time held me green and dying / Though I sang in my chains like the sea." On the
Pet Shop Boys
-like dark synth number "Wolf," she sings, "In heaven, lost the taste of hell," but she repeats "taste of hell" as if she still yearns to visit on occasion. And they do, on sporadic occasions across the album, revisit their past. The single "Burning" starts off as a piano and throws on strings to complement her familiar emotional vocals and turns up the dance floor potential borrowing its melody from
The Four Seasons
' 1967 song "Beggin'." "Fleez," with its
Blondie
-ish verse and squeaky-sneakers-on-court synth, coupled with heavy bursts of buzz, is perhaps the closest track to recalling the all-night dance parties of old.
But being sentimental is not where Yeah Yeah Yeahs are, nor where they plan to be. The track "Different Today" is a light, repetitive synth-y string number placing the listener directly in the present, reflecting on mortality and how important it is to not waste any more time. If anything, Yeah Yeah Yeahs want people to look to the future and take accountability.  The opening track and first single "Spitting Off the Edge of the World," a team-up with
Perfume Genius
, looks at what our generation has (or really, hasn't) done to halt climate change, leaving no viable option for her son and future generations to deal with. She sings of the bleak future "Never had a chance / nowhere to run…and the kids cry out / We're spitting off the edge of the world" because that's all they can do.