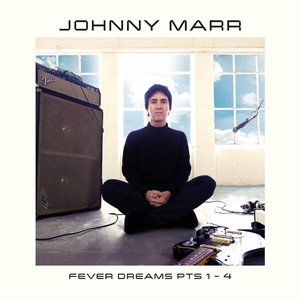 The first thing to note right out of the gate with
Johnny Marr
's latest effort,
Fever Dreams Pts 1-4
, is that it's essentially a pairing of four interlocked EPs, each with its own particular ebb and flow.
This collection of music feels as if it delves into all of Marr's past efforts and collaborations. You hear strains of
Electronic
,
The Smiths
,
The Cribs
,
Modest Mouse
, and hints of his time with the
Pretenders
and
Neil Finn
. There are even moments, as in the chorus of "Receiver" and the first half of the track "Rubicon", where his work as a composer for motion pictures like
Inception
seems to sneak in a bit as well. It all comes together in an album that seems to be Johnny Marr arriving in a confident and solidly melodic place as a solo artist.
The album opens with a dance-y pop-rock number, "Spirit Power and Soul," which lyrically delves into the passage of time and a longing for better days. As the listener moves through the four sections of the record, the distinct sound of Marr's Fender-driven pop-rock guitar riffs is on display without being overbearing. You hear it on cuts like "All These Days," "Night and Day," and "God's Gift." As you go deeper, the rock foundation gets stronger on "Hideaway Girl," "Sensory Street," and "Tenement Time;" the guitars louder, the keys heavier, the drums stronger, the bass at times grinding and distorted. As the album heads into the final stretch, cuts like "Ghoster" seem to lean into a Manchester underground club vibe, and the whole journey wraps up nicely with an acoustic-based ballad in "Human" which infuses a prominent Smiths-style energy.
Fever Dreams Pts 1-4
continues Johnny Marr's solo journey of catchy pop-rock and observational and introspective lyrics, in a way that is at once a welcome continuation of his work for longtime fans while also being accessible to new listeners who may not be as familiar with his solo career.