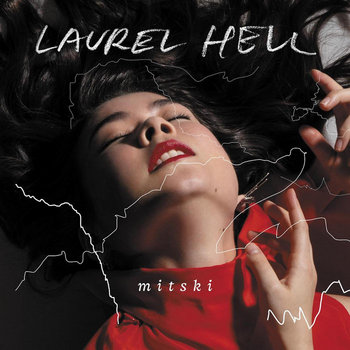 Mitski Miyawaki
was supposed to be done. It was a swift, surprising kind of done, but when she logged off of social media and alluded to quitting music a year after releasing the legacy-cementing
Be the Cowboy
, it still felt as definitive as such a gesture can feel nowadays. After years of making art and finally being able to make a living off said art, she was ready to hang it up for good and try making a new life. But label contracts and internal conflict came calling, and like
Sarah Michelle Gellar
in Season 6 of
Buffy The Vampire Slayer
, she found herself pulled back out of the ether and into the
Laurel Hell
of a grind that just doesn't hit like it used to.
Mitski has always written sharp, supernaturally specific vignettes of life and love lived in a blur, where happiness and sadness happen in such rapid succession to or in sync with one another that the two feelings become almost indistinguishable. Her new album pulls back the curtain on how those feelings hit when the blur slows down and you have time to reflect and reacquaint yourself with them anew. She's said these are songs "about real relationships that are not power struggles to be won or lost." While this could apply to romantic relationships as easily as it did on previous albums, a slightly more meta and introspective bent lurks around the perimeter as she seems to be grappling with the give and take of her relationship with her craft and career as well this time.
Lead single "Working For The Knife" finds her lamenting how "I always thought the choice was mine, and I was right but I just chose wrong." It's a sobering moment when you realize that what you thought you wanted all along may not be so great after getting it, yet it's perversely comforting when you see other people go through it too. Not long after that revelation, she reveals her struggle with not becoming too numb to everything and everyone around her to cope. "Stay Soft" argues that it's "only natural to harden up" over a disco stomp that makes it a distant, more zombified cousin to
Cowboy
classic "Nobody." This is the arc of someone finding their way back to themselves after consciously trying to find some distance on that album.
Weirdly, as the narrative stays somewhat somber, the music gets sleeker. After the eclectic style shifts of her previous
Dead Oceans
albums,
Laurel Hell
finds Mitski staying in a shiny synth-pop lane. While that may leave listeners longing for the fun pivots of past peaks, there's no denying the thrill of a uniform approach when it builds momentum, a momentum which crests in the dueling
Flashdance
-off of singles "The Only Heartbreaker" and "Love Me More." Here, the blur starts to return as Mitski seems to beg for imperfection from a lover in the former only to beckon for more perfect love from the same lover in the latter. Once again, this could just as easily apply to herself and her career. What makes Mitski special as an artist is how much she reveals while leaving just as much up to your own interpretation and experience, both of her and your own life. No matter what choice she makes next, her music is bound to keep saving someone's world. A lot.
Mitski plays a sold out show at
Franklin Music Hall
on March 25th. Enter to win tickets by voting for this week's
Top 11 @ 11
.