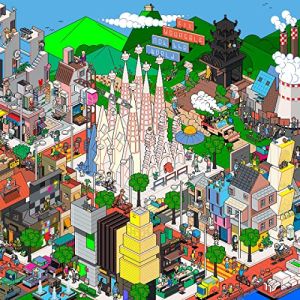 Pandemic. Isolation. Stress. Safety. Fear. These are no longer new terms to describe daily life, they are the norm. It almost feels redundant to draw attention to these obvious attributes, but it's important to remember this is not normal; people must persist.
The
Wombats
set out on that tightrope of themes with their new record
Fix Yourself, Not the World
, balancing the new normal with old recollections. On "Everything I Love is Going to Die," for example, they take bleak reality and realizations about quarantine, and sugarcoat the hard-to-swallow pill with a fun, dance-y bassline and
New Order
guitars.
Like on their last album,
Beautiful People Will Ruin Your Life,
The Wombats continue to live in three locations: singer/guitarist
Matt Murphy
in Los Angeles, drummer
Dan Haggis
in London, and bassist
Tord Overland Knudsen
in Oslo, Norway. In 2019, all three were together in L.A. to write a small batch of songs meant for a new record, including the slow piano ballad that grows into a powerful, emotive track "Method to the Madness." Shortly after that, same-room collaboration lost viability and they decided to write the rest of the album via file sharing and daily video chats – something they also did on the previous record. But when it came time to record, they chose to remain in isolation, shipping their individual parts off to their five-man production team to cobble together, forming the finished product. While Murphy said it was "pure madness," Haggis remembers that "It will always stand out for us in our memories from other albums as we recorded it across three cities during lockdown, and we weren't all in the same room at the same time!"
So even if the method changed on this, their fifth album, The Wombats still show that they are comfortable putting out arena rocking bangers chock-full of classic Brit Pop guitars and hooks. The album opens with "Flip Me Upside Down," a funky bass and hand-clapped mover that sets the bar high for an energetic romp. "Ready for the High" is a falsetto sung,
Blur
-like head-nodder that pulls some nostalgia as a slowed-up version of their hit "1996." "Work is Easy, Life is Hard" would feel right at home on
EMF
's
Schubert Dip
, employing drum machines and dabbling in EDM for a track to get the cheap binocular seats dancing. And although "Worry" unusually starts out with dialogue and a xylophone intro, it erupts into wailing guitars and a driving wall of sound once the sing-a-long chorus of "It's not paranoia if it's really there" hits.
The best track on the record, "This Car Drives All By Itself" is an earthy danceable tune, drawing inspiration from the fluidly jovial
Talking Heads
and overlooked (and poorly named)
Dogs Die in Hot Cars
who were their contemporaries nearly 20 years ago when they formed. The title acts as a metaphor, coming to terms with the idea that we're not 100% in control of our lives and we must adapt. What The Wombats have created here is a powerfully fun therapeutic song of the times that, a few years down the line, will no doubt be in a car advert.
Once time passes, historians can look back at COVID and its Domino Rally of reactions to have had a huge influence on at least the past two years of music and art. The Wombats feel-good-in-the-face-of-despair new record is no different, but impressive that it is just so much fun. And speaking of fun, at the time of writing, while multitudes of other tours have been postponed or canceled, The Wombats are still set to start their U.S. tour this week, hitting
The Fillmore
on January 22nd.