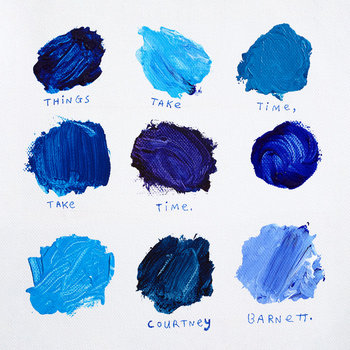 For her third album,
Courtney Barnett
 chose the less-is-more approach to both songwriting and production. Working with
Warpaint
 drummer
Stella Mozgawa
 (who also plays a bevy of instruments here), she recognized the stripped-down power of the demos and admirably chose to build on that rather than reworking the songs to a full-band aesthetic. By doing so the intimacy and allure of each track are ironically amplified. One can perhaps call it the
Nebraska-
effect. And while this very nature that makes
Things Take Time, Take Time
so appealing may ostracize some, it has the seeming effect of getting better with each subsequent listen.
"Rae Street" kicks off the album and was also the lead single. A somewhat reserved vocal delivery reflects the monotony of the lyrics. A garbage truck, gallivanting kids, playful dogs, and some house painting are just a few of the mundane observations made as the chorus swells. "Time is money / And money is no man's friend" croons Barnett. It's an inner monologue shared by many over the past 18 months stuck inside watching the world figuratively (and literally) burn.
Barnett has described all of her songs as stories, ones that can develop as new arrangements are made for live performance. And while she is an adept storyteller,
Things Take Time, Take Time
 sees her write some true love stories. "Here's the Thing" and "Before You Gotta Go" both describe very different emotions felt entangled in relationships. The former reads like a love letter written with equal parts feeling and uncertainty while the latter details a classic lover's quarrel. The affinity each tune captures is the exact thing that would have been lost had the album featured a more polished production.
There are also some great moments of brightness and levity on the second half of the album. "Take It Day By Day" is an upbeat tune that takes a conversational tone to checking in on a lonely friend. "Don't give up just yet / You got it" Barnett sings as the song continues in its inquisitive course. "Write a List of Things To Look Forward To" is, as the title suggests, catalogs feelings of gratitude to all aspects of life.
By the time the album finishes, it is hard to argue that the minimalist approach was the wrong way to go. By allowing the ten tracks on
Things Take Time, Take Time
 the necessary room to breathe, Barnett and Mozgawa were able to craft an album that will no doubt stand out in each of their respective discographies. It may not be exactly what most were expecting, but the through-line in the record is something we all needed to hear.