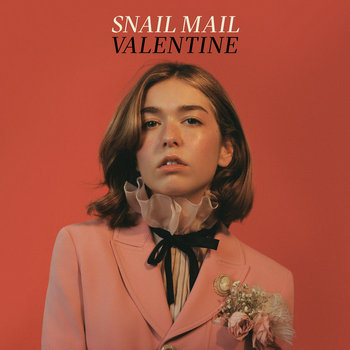 What were you doing seven years ago? 
Snail Mail
's
 Lindsey Jordan
 was in school, writing songs about naive love and crushes in her bedroom, set to the 
Liz Phair
 school of 90's fuzzy guitar. Being from the Baltimore area, she also had the help of 
Mary Timony
to craft her guitar sound and throaty, breaking vocals. She recorded a fantastic 6-song EP, 
Habit
, toured a ton and her work began to get noticed. Touted as one of the emerging faces for the next generation of indie-guitar slingers, things moved faster for Jordan than most artists experience in a lifetime. A 15-label bidding war ensued, and Jordan settled with
Matador
 to release her first record, 
Lush
 in 2018; just a year out of high school.
Touring and the stress of being "the next big thing" took a toll on Jordan. Coupled with the pandemic, Jordan returned to her childhood bedroom where it all began. She sifted through her grown-up thoughts on relationships and wrote the bulk of her next album, which, in an
NPR
 interview, claimed is "99% accurate [cathartic], 1% artistic imagination."  And on top of all that (or perhaps because of), she checked herself into rehab for a month and a half, saying, "I made the choice to take an extreme step, to get myself into a place where I felt even-headed and clear enough to do an album cycle and to give the record that I had made serious progress on, the best version of myself."
Now 22, Jordan's sophomore album
Valentine
 showcases a sonic evolution many of her idols and peers have also gone through. With the help of producer
Brad Cook
 (
Bon Iver, Waxahatchee
), Jordan has molded songs out of her angsty guitar-driven base to include a softer, multi-instrumentation that doesn't sacrifice her powerful delivery and remain uniquely Snail Mail. Most of the songs start out light and simple, adding layers that grow each track into diverse songscapes. "Madonna" starts out with a plodding vocal and drum kit, but once the chorus hits, it becomes quite dance-y. "Mia" begins with a light acoustic guitar and vocal, but slowly adds bass and orchestral strings to become a lovely album closer. "Forever (Sailing)" includes skipping trip-hop production with synth and static that leans hard on a 
Portishead
 comparison.
The biggest difference on
Valentine
 is Jordan's vocal performance. Abandoning reliance on her trademark cracking, nasally vocals, Jordan applies a deeper, intimate and soothing sound. But her signature style is not discarded completely: her emotive vocals resurface more as punctuation than paragraph. They emerge in the rocking choruses of lead single "Valentine" and the best song on the record, "Ben Franklin," where 
Katie Crutchfield
 of the aforementioned Waxahatchee provides backup.
In all, Valentine captures the mindset of a young woman with a scarred history of love, who continues to look for her "Light Blue" person. Someone with whom she "can sail the ocean blue or just lie down" and still "wanna wake up early every day / just to be awake / in the same world as." Through all the jealousy, scorn, hurt, and unsureness presented on
Valentine
, her drive remains. The pieces of herself that life breaks off, that she picks back up, have provided growth rather than restraint. Snail Mail has grown up fast and it will be about seven more months of growth before she headlines two shows at the Union Transfer on April
5th
and
6th
. Who will she be then?