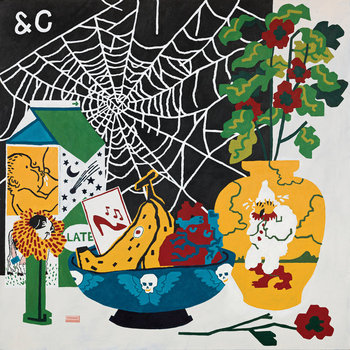 After touring for the album
WIDE AWAAAAAKE!
,
Parquet Courts
' co-lead vocalists/guitarists
Andrew Savage
 and
Austin Brown
 started getting into the dance music lifestyle of the NYC clubs, especially at the established venue The Loft. Naturally, this interest imbued their new music which manifested into their seventh album
Sympathy For Life
. Acid trips at the gym,
Talking Heads
, and
Primal Scream
's
Screamadelica
 all influenced these 11 tracks that creatively combine their traditional stoner indie-rock with modern psychedelia and 90's house party vibes. The pre-pandemic 2020 recording sessions in the Catskills lead to many lengthy improv jams which producer
Rodaidh McDonald
(
The xx,
and, unsurprisingly,
 David Byrne
) mixed down into cohesive songs.
Lyrically, they continue to explore the technological dystopia that could come to a head at any moment. "Application Apparatus" envisions a lonely driver for hire who finds solace in the soothing robotic GPS voice that steers us all, while also visualizing the cinematic pace of moving through the city, lights and noise drifting by in slow motion. "Homo Sapien" marvels "What a time to be alive, A TV set in the fridge." On "Just Shadows," Savage, no stranger to harsh criticism, points blame directly at big tech:  "Amazon Fire, twenty percent off, Global cost, vast species death, Suggested for you."  
Channeling psychedelic music is nothing new to Parquet Courts as you can hear indicative elements like 60's rock organs throughout their back catalog, but here it takes a groovier shape. The title track and "Zoom Out" lay down some very funky rhythms, while "Marathon of Anger" utilizes
Kraftwerk
-ian bleeps and bloops. However, opener "Walking At A Downtown Pace" could easily be "Wide Awake" part 2, and the aforementioned "Homo Sapien" doles out some traditional post-punk energy they came to be known for in their early output. All of this being said,
Sympathy For Life
 is less a transition into some new trendy synth-rock outfit and more a culmination into a band fueled by a greater level of curiosity and spontaneity.
While some listeners of
Sympathy For Life
 may be confused as to which type of record these fellas have just released, a deeper dive reveals a fairly coherent blend of multiple genres that allude to what may be coming next for Parquet Courts.
Don't miss Parquet Courts when they play
The Fillmore
in Philadelphia on Tuesday, April 4, 2022.