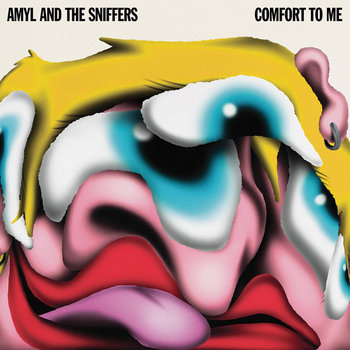 Australia's rowdy punks
Amyl and the Sniffers
 are back, armed with a baker's dozen of tracks for their sophomore record,
Comfort To Me
. While they excel at chaotic, don't-give-a-s**t songs,
Comfort To Me
 uncovers a desire to grow and diversify their themes, including more rock n' roll and power pop chords to the driving punk mix. Don't get me wrong - "Choice" delivers one of their most thrashing, circle-pit hardcore sections to date, and titles like "Maggot" and "Don't Need A C**t (Like You To Love Me)" prove there is no loss of attitude or onomatopoeia for the band's image. But "Security" brandishes some serious
Cheap Trick
-level hooks and "No More Tears" is a virtual ballad, with singer
Amy Taylor
 sounding sedated and vulnerably introspective. As a whole,
Comfort To Me
 is more focused and calculated- like the playback speed from their first record was ticked back a notch.
This was all by design. Written in the downtime after a long world tour and during the pandemic, the album shows an itching to get back out there with a fine-tuned arsenal of material. In an interview with
Apple Music
, Taylor explained "everyone thinks we're just funny all the time…but we also are full-spectrum humans who think about serious stuff as well." The best example of this growth is the powerful and politically charged "Capital," where Taylor honestly admits, "I only just started learning basic politics" before she criticizes the Australian Prime Minister and delves into a very existential dark place with the progressing lyrics "Freedom don't exist / Humans don't exist / Existing to exist / Life is meaningless."
The songs on
Comfort To Me
 analyze three main topics: exploring love, quarantine fatigue/nostalgic reminiscing, and most importantly and thoroughly, modern feminism. Equality for all should be an obvious given, but society unfortunately still needs loud voices to spotlight oppression. Taylor proudly and intensely picks up that Riot Grrl baton with an empowering set of tracks. She continuously berates privileged critics that her beliefs and rights are equally valid with lines like "I'm still a smart girl even if I'm dressing slutty" ("Laughing"), "I said what I said, I meant what I meant / Do you respect that from me?" ("Maggot"), "Get on my level or get out of my way" ("Freaks to the Front"), and "My choice is my own / My Body my own / Opinion is my own / I own it, I own it" ("Choice"). More than that, she demands to not be limited with expectations in "Don't Fence Me In" and "Don't Need A C**t." And she exhaustedly cries for women's safety, explaining the extra steps women must think about every day in "Knifey" by proclaiming "All I ever wanted was to walk by the river…out comes the night, out comes my knifey / this is how we get home nightly."
While
Comfort to Me
expands the band from feral punk anarchy to conscientious activism with more diverse music, the steps ahead do not sacrifice power or assertiveness from their earlier work. In fact, their rebelling attitude laid the groundwork and validity for them to promote self-reliance and self-acceptance at this important time. With Taylor's personality and a nearly unlimited personal supply of energy (it's her currency, per "Guided By Angels"), we can only hope she'll carry the baton until all necessary work is done.