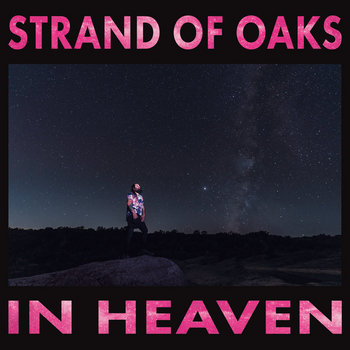 Tim
Showalter
 (aka
Strand Of Oaks
) proclaims that his eighth album
In Heaven
 was created with love and, in announcing the record, said that his greatest hope is that it "provides a momentary space for reflection, joy, catharsis." He also recognizes how lucky he is to create this magical thing we call music. And there is no lack of magic on this beautifully realized album of American folk-y rock which depicts grief, loss, and change. Battling alcoholism, moving from Philadelphia to Austin, and especially the deaths of loved ones drive a lot of the lyrical content, but in the most uplifting and inspirational ways. There are two lyrics that sum up the album in not-so-subtle ways. On lead single "Galacticana," he repeats, "I don't want to drag you down" emphasizing that despite hardships, there can always be a path to redemption. The second verse of "Horses At Night" ends with Showalter exclaiming to himself "Jesus Christ Tim... they're just songs, they should be fun." Despite the heavy subject matter, there is much exuberance to be found here, especially on the second half of the album. "Sister Saturn" starts off with some fun blues-y guitar and chiming keyboards, while a lively violin noodles through much of "Carbon," and "Sunbathers" unlocks some lovely stream of consciousness imagery.
It's not easy to create songs about mourning that aren't downers, but Showalter's strength on this album is finding light in the darkness, bringing us along on his courageous journey out of the depths. The untimely death of his mother-in-law in 2018 fuels a few tracks, including the heart-wrenching solo piano closer "Under Heaven" where all he can do is proclaim love and support for his wife Sue. On "Jimi & Stan," he dreams that his beloved deceased cat is in heaven "going to shows" with
Jimi Hendrix
 and "Somewhere In Chicago" imagines his acoustic guitar hero
John Prine
 (who passed last year due to COVID) wandering through the streets of this old town. Both of these odes are full of bittersweet tenderness.
Like 2019's
Eraserland
,
In Heaven
 is helped along with members of
My Morning Jacket
. Guitarist
Carl Broemel's
 epic guitar solos and
Bo Koster's
 keys add texture to Producer
Kevin Ratterman
's lush soundscapes throughout the album, fully realized on the hauntingly gorgeous "Hurry." Here, Showalter's words "This world's not meant for me" are repeated during the outro until his voice becomes an echo and eventually morphs into transcendence. This is the journey that Strand Of Oaks wants you to experience.