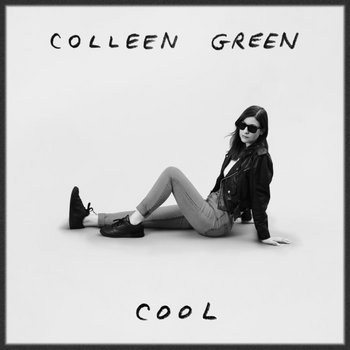 Colleen Green
 is still discovering who she is and finding her place in the world with her new release,
Cool
. Her first new album since 2015's
I Want To Grow Up
sees Green writing from the perspective of someone realizing that no matter how hard they try, no matter how old you get; we are all still trying to figure life out. What the album does make clear is that Green is no longer caring as much about trying to fit into other people's versions of her own life, as she is in trying to navigate life on her own terms.
Cool
 is about working against the drift that we are all experiencing, and trying to 'be nice' and 'stay positive' while still being present for yourself in this moment of pandemic-headiness.
"Someone Else" is a melodic opener with sunny vibes and lyrics that turn a dark corner, punctuated by light vocal harmonies and the mantra, "Do you / Do you / Do you..." Lead single "I Wanna Be Your Dog" is a sing-a-long about still struggling no matter how old you get and looking for someone who truly sees you as you are. "Pressure to Cum" leads the album out in an instrumental flute-y haze.
Initial listens to
Cool
 seem to pass by in a blur, although the lo-fi-ness of Green is still present no matter the 'big' production used for the album (by hip-hop producer
Aqua
 and
Strokes
 producer
Gordon Raphael
). There are various tracks that stick out, in addition to "I Wanna Be Your Dog," there's the very hip rock guitars and production on "You Don't Exist." "It's Nice to Be Nice" and "How Much Should You Love A Husband?" are fantastic tracks. "I Believe In Love" is the heaviest track on the album, but most of the songs are like looking for light under a melancholic gray cloud. The lightness comes in the shape of the soaring guitar on "Posi Vibes" and the back-and-forth on "It's Nice To Be Nice," about reminding yourself to push through and just treat yourself and others with kindness even if you are in a bad space.
Listening to Cool really reminded me of late '90s early 2000-era Juliana Hatfield vibes. The writing is there, the music is there, I'm just trying to lock into Colleen's groove, step out of the way of her melancholy and find that "Posi Vibe."