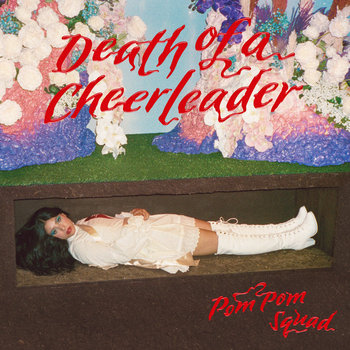 Following two stellar EPs, the time has finally arrived for
Pom Pom Squad
's debut full-length album. The record shows a fair amount of polish for such a debut, thanks in part to a tight production from
Sarah
Tudzin
 of
Illuminati Hotties
 and a reliably talented rhythm section.
Death of a Cheerleader
 is a concept album light on concept and heavier on personal ardor and identity. Also pepper in changing time signatures, soundscapes, and a small orchestra for good measure.
The album starts off with the ephemeral "Soundcheck" before jumping right into the rebellious energy of "Head Cheerleader." The distortion that ends this song is then juxtaposed with the pluck of harp and intro of strings in the more reserved "Crying," which then leads into the acoustic "Second That." If this sounds like an assemblage of material that crisscrosses genres and influences, you would be correct in that assumption. But that would be simply selling short just how well the material flows. Despite their differences, it all works and is more engaging rather than distracting.
"Lux" is a standout track on the album. While it clocks in at barely 90 seconds, it is chock full of some of singer Mia Berrin's best lyrics to date: "You push and I give way collapsing inward like a cave /And I feel naked without taking off any of my clothes," Berrin sings, giving off serious Suzi Gardner vibes. "Shame Reactions" also evokes similar riot grrl energy.
"Be Good" features a welcome reprise of "Soundcheck" with the addition of lyrics and a small orchestra. The only song that feels a little out of place is "Crimson and Clover," a nice cover of the Tommy James classic that might have been better served as a bonus track.
Death of a Cheerleader proves to be more about delivery than demise. One thing's passing leads to another's coming of age. The band demonstrates their artistic merit and Berrin certainly proves herself to be a songwriter to watch.