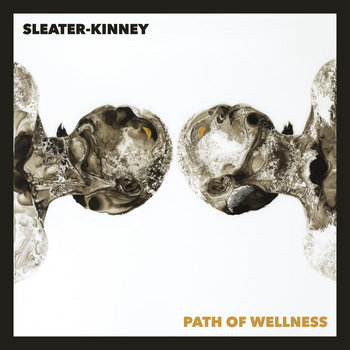 If there's one thing that never changes about
Sleater-Kinney
, it's their utter disinterest in playing into or along with any narratives others might try to project upon them. This was true during their initial ascent to indie rock prominence as people tried to pigeonhole them as just an "all-girl band." It was also true when they announced their initial hiatus following the tour for 2005's epic
The Woods
 and everyone was desperate to assign a narrative as to why. It stays true on their new album
Path of Wellness
, their first album since the daring, divisive
The Center Won't Hold
 saw them trying shiny new production tricks from
St. Vincent
 and subsequently saying goodbye to legendary longtime drummer
Janet Weiss
 mid-roll out. Not only do
Carrie Brownstein
 and
Corin Tucker
 refuse to feed into the fallout of that tumultuous time with their songs (and good for them), they also refuse to follow that album's sleek sonic palette with more of the same.
Instead, the duo doubles down on their innate, almost telepathic chemistry as performers on stage and partners in the studio. The previous album's cleave between Carrie and Corin songs remains but said songs complement rather than contrast with one another. Where previous peaks found these women's vocals in conversation, this album finds them nearly in canon from song to song. Also,
Wellness
presents a scenario that even the previous album never dared try: Sleater-Kinney as a slow-burn. Rather than unleash another onslaught of thundering future live anthems (this might be the one place where Janet's absence was a consideration), this is an album that takes its time unfolding, building up momentum rather than flooring it out the gate.
That comparatively leisurely pace works for songs that largely seem to smooth out and streamline the more overtly "classic" rock influences of
The Woods
 and
One Beat
. The singles that preceded the album form a neat triptych that summarizes the whole, with "Method" even pushing the pair into
Tom Petty
 territory. Brownstein embodies that vibe quite well, her noticeably upped swagger from the last album employed here in ways that actually recall her previous work with
Wild Flag
. Tucker remains in top vocal form as well, this time finding ways to build tension via her singing where she would previously provide release. The slow but steady swell of her voice through mid-album highlight "Shadow Town" is a subtly thrilling moment.
Ok, I was wrong. One other constant that remains in this group is their ability to close an album. "Bring Mercy" finds Tucker back in "Sympathy" mode as she sings about watching her chosen hometown Portland erupt with fascist attacks against protesters last summer, hoping that everyone finds a way to both see another day and more kindness on that day. I'm not sure anyone is going to rush to call
Path of Wellness
 their favorite Sleater-Kinney album, but it may still prove a crucial one. Like
The Hot Rock
 before it, it's a more restrained effort that directly follows a watershed moment for the band (even if the moment this time was one the band didn't necessarily want). That album also took a minute to reveal its strengths and power, and like that one,
PoW
 offers proof that Sleater-Kinney is both capable of pressing forward and still has plenty to offer, even if it doesn't fit the narrative others would have liked.