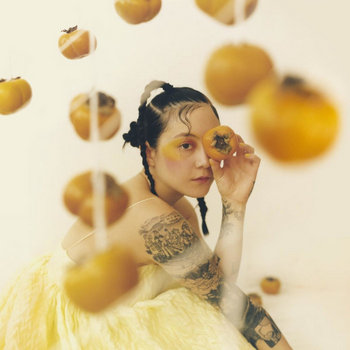 For many artists, third albums are the statement of who they are and where they're going. The rawness of the first two releases becomes a fully realized portrait that encompasses an array of artistic expressions and influences. Just looks at the catalogs of
Bjork
,
The Clash
,
Minutemen
,
Black Sabbath
,
Springsteen
,
The Replacements
, etc. to witness this pattern. On
Jubilee
,
Japanese Breakfast
 prove the theory to be correct as they have crafted an album full of ambitious arrangements, snappy hooks, and some of singer
Michelle Zauner
's most insightful songwriting. It's an ideal prescription for the nonstop hangover that was 2020.
"Paprika" gets things started and it's a big lush of a song. When tackling the subject of the magic of music it makes sense to expand the instrumentation as far as you can. Strings, brass, and woodwinds complement the rhythm section and, to quote Zauner's own lyrics, "It's a rush!" Up next is the album's lead single "Be Sweet." Zauner told Stereogum that this song features "the most chorus I've ever written." Hard to argue there, and even harder to get this one out of your head.
Two other singles are peppered throughout the album. "Posing in Bondage" gets the full studio treatment (it was originally released as a lo-fi 4-track recording) and, despite the added production, loses none of its luster. The words hit even harder, as Zauner sings, "the world divides into two people: those who have felt pain and those who yet to." It speaks to themes that are very familiar in the Japanese Breakfast catalog: grief, how it's processed, and how it affects our everyday lives.
The most recent single, "Savage Good Boy," arrives later in the record. Featuring production courtesy of Alex G, it's another pseudo-pop tune that ruminates on darker themes of capitalism, survival, and the strange bridge where both meet and the line between good and evil becomes blurred.
Beauty and tragedy figure into the song "Tactics." Perhaps more arresting than the gorgeous string arrangement is the context of the lyrics. Conversely, "Kokomo, IN" is a sweet love song that captures the feeling of teenage love. "Slide Tackle" is another upbeat tune with some great work from saxophonist Adam Schatz and guitarist Ryan Galloway.
In an album that has so much to say, it seems oddly fitting that the last four minutes of the closer "Posing for Cars" is instrumental. When words fail to capture a moment or feeling, the hiss and fuzz of a guitar are a more than capable substitute. It's this recognition, knowing exactly when to let the words or the music do the talking, that makes it such a powerful record.
While Japanese Breakfast may now find themselves to be "Jimmy Fallon big," Jubilee proves their collective feet are still placed firmly on the ground. And while it may be their third full-length release, it feels like Zauner and company are just getting started.