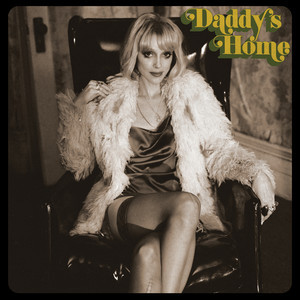 Forget
St. Vincent
 for a minute. Let's talk about
Annie Clark
. For roughly 15 years now, she has consistently dazzled us with her musical output through her alt-pop alter ego, yet she always seemed to maintain a boundary between that persona and her private life. Despite her rising media profile through Grammy performances and entertainment rag snapshots, she has remained as hard to pin down personally as her music is sonically. This is perfectly reasonable, mind you, not to mention somewhat impressive. Up through and including her 2017 masterwork
Masseduction
, this remove felt like the one constant we could count on through her catalog. However much her music might evolve and mutate, the central mystery of Annie Clark the person would remain, and the music always made it easy to accept and even kind of fun to project over and speculate.
However, Daddy's Home now; an album inspired by the release of Clark's father from prison two years ago. That's not a small amount of personal information to put out into the world, and it would seem to hint that Clark is starting to pull the curtain back a bit on herself. That's not exactly what's happening here, though. This backstory serves more as an albeit heady thematic framework than any kind of narrative in the songs, which revolve more around gritty Grimms' Fairy Tales of life in pre-Punk-era New York City. It's certainly not Annie's fault that such expectations may have been placed on the album, but when part of the allure of an artist is the mystery, having such a concrete detail draped over the proceedings tends to distract from the stories you may be trying to tell in your songwriting, however nuanced and intricate they may remain.
Another interesting wrinkle is that in addition to having such a concrete hook to hang perceptions on thematically, Daddy's Home is easily St. Vincent's most overtly referential album on a musical level. Clark took inspiration from both the music that permeated the time period she's mythologizing and the music she grew up listening to at home: David Bowie, Sly Stone, Pink Floyd. Clark has always known her way around a Bowie homage and early singles "Pay Your Way in Pain" and "Down" sound like outtakes from his Young Americans period in the best possible way. The difference this time is that the songs, while as meticulously crafted and executed as ever, never get to that extra twist that we've come to know and love from a St. Vincent song. For every Bowie chorus in the past, there was always a sudden ambush of industrial guitar distortion or Frankensteined dance beats. Here, the reference is the hook.
Furthermore, this album leans more heavily into St. Vincent's balladry than any of her past releases. Again, Clark knows how to craft a ballad and the ones she used to tuck away in the back half of her albums were often highlights, serving as both a nice palette cleanser and double down on her songwriting. This time around, the would-be palette cleansers dominate, and without the previous juxtaposition of musical left turns that accompanied them in the past, the result is an album that meanders. For the first time, St. Vincent disappears into it a bit. The puzzling humming interludes that punctuate the haze don't help with pacing either.
That said, it's hard to fault Clark for once again donning a new aesthetic after wearing the previous ones so well. Not every costume is a perfect fit and part of the fun of keeping up with shapeshifters like St. Vincent is seeing how their new shapes work and where they'll go next. It's just a bit telling that the first time she seems to wear something more theoretically revealing of herself is what leads to the bumps in the road. Daddy's home, but maybe next time the St. Vincent we know and love will be too.