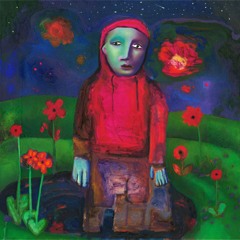 Do you know that sarcastic question that goes: "Tell me how you really feel?"
if I could make it go quiet
, the debut album from Norwegian
Marie Ulven
, aka
girl in red
, answers that question with aplomb. On her first official full-length release, the former bedroom indie-rocker has polished her sound without taking away her unapologetic look on mental health and sexuality. Over the course of 33 minutes and 11 songs, Ulven lays bare the emotional state of her relationships, desire, and touring. As a Gen-Z artist, girl in red has no problem putting the kibosh on any preconceived notions of how girls in music are supposed to act.  
This new album is mostly produced by Ulven and Matias Tellez and while the lo-fi sound is gone, the lyrical angst remains. Billie Eilish's brother and collaborator FINNEAS lends a hand on the production of album opener "Serotonin," a spirited slice of alt-pop that tackles intrusive thoughts that lead to self-destruction, yet there's still a shred of hope: "Put me in a field with daisies / Might not work, but I'll take a maybe." The rest of the album is deftly back in Ulven's court. On "You Stupid Bitch" she tries to shake the shoulders of a friend who can't see what's right in front of her. "Did You Come?" confronts a cheating lover while "hornylovesickmess" is a confessional about how a long-distance relationship is unfair to one while the other is out gallivanting on the road. Speaking of which, "." could be about the demise of that relationship, there's no closure, it just ends like a period. Last year's single "Rue" is credited as being inspired by the character of the same name on the HBO show Euphoria and recognizes that getting better mentally starts with yourself.  
Sonically, the album ventures out with some more rocking tracks that seem like ideal crowd-pleasers when girl in red can actually tour again. Meanwhile "Body and Mind" is an upbeat, funky tune ironically about recognizing self-hatred. Many of the deeper tracks employ the same driving percussive beat with strumming guitars evident in her early work, while piano appears at the forefront of slow-burner "Apartment 402" and the instrumental closer "it would feel like this," quietly finishing the sentence that the album title starts. Like many artists who struggle with mental health, this creative outlet is what will likely keep her going for years. While there's a little more shine to if i could make it go quiet than her first efforts, the skeletons in Ulven's closet are still on display.

**Donate $15 or more to Y-Not Radio to receive a download of if i could make it go quiet. Click here for details.