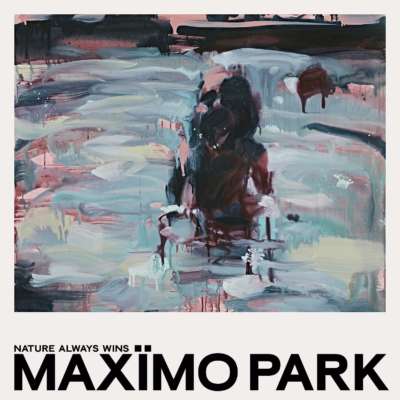 With seven albums over 20 years,
Maxïmo Park
keep going and going… not bad for a band that didn't even know if their hired frontman could sing. But 20 years have not gone by without change, as they are now down to a trio; with bassist
Archis Tiku
 and keyboardist
Lukas Wooller
 departing after 2017's
Risk to Exist
.
Nature Always Wins was recorded in the now-normalized style, with individual tracks recorded in the members' Newcastle and Liverpool homes, then cobbled together by producer Ben Allen (Animal Collective, Deerhunter) in Atlanta. As a catalyst, the pandemic is far-reaching and has more of an impact than just on the record's production. Singer Paul Smith was not immune to being swallowed up by his mind, as themes of contemplating the past and emotions of growing older seeped into his lyrics. The opening track "Partly of My Making" allows him to acknowledge signs of aging like losing luminosity and declining metabolism in a slightly psychedelic, disjointed and stuttering track built around a beefy guitar lick. The future-nostalgic synth tune "Meeting Up" thinks back to a lost romantic chance, like Pulp's "Disco 2000," with emotionless, medicated vocals. "Versions of You," a sleepy, building song and "Placeholder," a swirling, jangly R.E.M.-like track both reflect on how intimately-known people can change uncontrollably over time. Further helpless feelings emerge in the lyric-spitting "I Don't Know What I'm Doing" and the directly personal "Feelings I'm Supposed to Feel." To balance it out, "All of Me" grants perspective and know-how to deal with change in an anthemic, stadium-built synth rocker.
On the other hand, the pandemic has allotted time to think about things outside the self. Guest vocalist Pauline Murray (of 70's punk band Penetration) assists on "Ardour," a song that admits they are so bored, that they're "scrolling in my sleep." In a more serious turn, Smith tackles the political nature of the Grenfell Tower fire of 2017 where 72 people died, by asking why action is only taken after disaster in "Why Must a Building Burn?" Smith also asks, "Where will the old folks go?" since "the libraries are closing down now" in "Child of the Flatlands;" a mellow tribute to his hometown. And the best track on the record, "Baby, Sleep," is filled with power chords layered against a sweet, wafting harmonious hook that Smith said is "a light-hearted look at the surreal nature of sleep-deprivation and the way it distorts normality in a capitalist society."
There is much diversity on the record in both sound and substance: characteristics that are not without partial "thanks" to the pandemic shutting down near-everything but our minds. The album is rich in stories and anecdotes that resonate on a grand scale with a wide audience in this relatable, trying time. The uptick is coming: and even if life doesn't get back to exact normality, every day feels like we're getting optimistically closer. So much so, that Maxïmo Park has emitted a beacon of hope, scheduling tour dates across the UK and Europe starting in June. Perhaps they'll come back to the States in support of the new album soon after, but really, only time will tell.

**Donate $15 or more to Y-Not Radio to receive a download of Nature Always Wins. Click here for details.