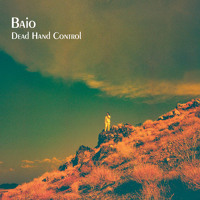 Vampire Weekend
bassist
Chris Baio
has pulled double-duty as a solo artist for years now, going back to the early 2010s. He's carved out his own unique slice of indie-pop on his own, a bit darker sounding than his main band, yet still upbeat. On his third solo release,
Dead Hand Control
, that's exactly the balance Baio is striving for.
Similar to his peer
Will Butler
from
Arcade Fire
on his own recent solo record, Baio is looking around at the dark times around us and trying to hold on to something good. He's said that the idea of "Dead Hand Control" is being able to control your life (like with a will or trust) after you're gone and what you can/cannot control. "Dead Hand Control" and "Dead Hand" were partly inspired by a rumored Russian nuclear program, something clearly out of all of our control.
The title track starts as a strummy acoustic rocker before morphing into chanting and big guitar sounds. Much of the album's thesis is right here up front: "I've been thinkin' about the end times / About the mad men and their bombs / You can't stave death off forever / But you can sing a simple song."
The '80s synth rocker "Endless Me, Endlessly" offers a friendly hand in these troubled times as well, with Baio singing, "'Cause when you're on the verge of a nervous breakdown / And when you're feeling fine / I'll give you whatever it takes for you / To make it through the times." This theme also continues on "Take It From Me."
Lead single "What Do You Say When I'm Not There?" takes a breather from these themes for some post-relationship worriers over a bouncy, poppier beat. We get some
New Order
-esque '80s vibes on "Never Never Never."
While
Dead Hand Control
is only eight songs long, three of them stretch way out. "Dead Hand" has some cool drum machine sounds, but did it need to be over nine minutes long? Album closer "O.M.W.," a co-write with his bandmate
Ezra Koenig
, also breaks the nine-minute mark.
Ultimately, Baio choosing hopefulness and love on
Dead Hand Control
over succumbing to the despair of the past four years is a stronger, more difficult, and at times, dancier path.