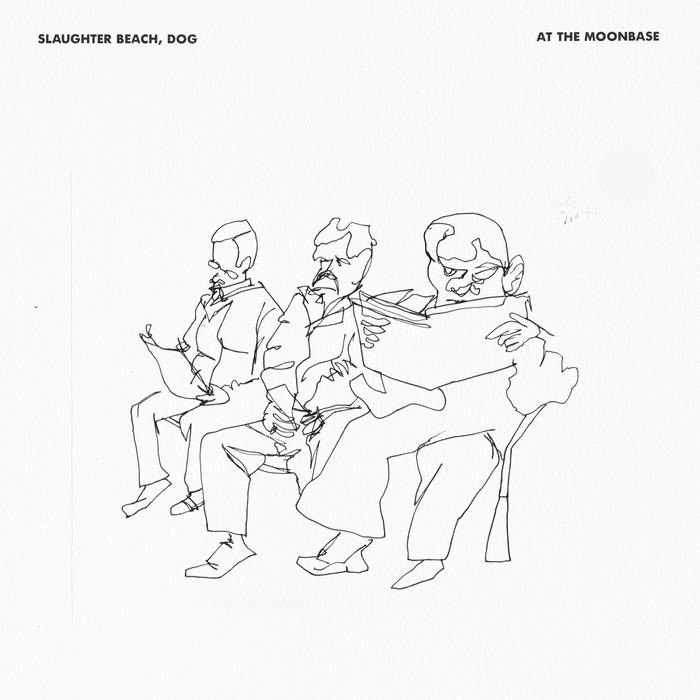 Jake Ewald
released the fourth record under the
Slaughter Beach, Dog
moniker as a surprise on Christmas Eve 2020. Recorded largely on his own, both in quarantine and at his East Kensington recording studio,
At the Moonbase
is a multifaceted exercise in experimentation, instrumentation, and influence. Themes remain the same as arrangements vary and the addition of new musical elements is a welcome progression.
"Are You There" starts off strong with a simply directed question, surely one we have all asked ourselves as we now approach one full year of COVID life. "Do you feel insane?/Is there anyone in the audience currently living in vain?" Ewald sings. The song is accompanied by a nice touch of synth and the bounce back and forth from electric to acoustic guitar. While this song features modern sensibility with a throwback sound, it sets the proper expectation for what's to come.
Love and relationships continue to be a wellspring of material for Ewald. "My Girl" is a sweet exploration of would-be domestic bliss while "Fell in Love " traverses a different kind of devotion. "Modern Lay" wears its classic rock influence proud and is a great exercise in Ewald's aptness in storytelling. It also features a sax solo from
Wil Schade
, a local Philly musician who turns out to be this record's secret weapon. Pay particular note to his solos throughout "Thinking of You", which lifts the song to new heights and leaves you wanting more as the mix fades.
While there are plenty of examples of expansion, there are still moments of intimacy on
At the Moonbase
. "Song for Oscar's" is quiet in its composure and reserved in its vocal delivery. The spoken word approach is also utilized for the album's finale "Notes from a Brief Engagement (At the Boot & Saddle)". Perhaps the album's most reflective offering, it's an unfortunately nostalgic song detailing the once commonplace experiences of anyone that ever attended a show at the now-shuttered Boot and Saddle venue. Again, Ewald showcases his talented lyricism as the crescendo builds to a boiling point that begs you to get up and dance.
In the end,
At the Moonbase
is an album that makes the best of a tough situation. Not wanting to merely settle for making lemons out of lemonade, Ewald crafts an album that justifies its place near the forefront of his ever-expanding catalog. The rush of the holidays and the intense pace set by the new year have allowed this record to somewhat fly under the radar. Don't let it.