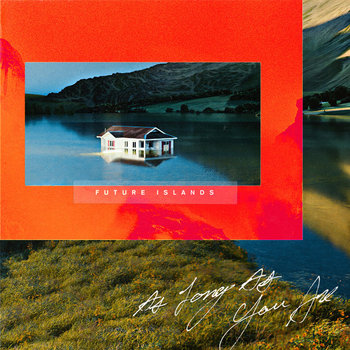 Remember that 
Future Islands
 performance on 
Letterman
 six years ago? It was the talk of the town and shot the Baltimore band to viral stardom. Now, on their sixth album, 
As Long As You Are
, they've shaken off any expectations to repeat that moment and deliver a delicious slice of synth-pop dreaminess. These 11 new tracks simmer with the ponderings of life, love, truth, and emotional freedom. Many of the songs are downtempo and more exquisite in composition, though 
Samuel T. Herring
 still delivers his passionate lyrics with that distinctive growl. Sonically, it seems Herring and his bandmates grew up on a steady diet of 
New Order
 and the like, which is most evident on 
William Cashion
's driving bass lines and 
Gerrit Welmers'
 ethereal keyboards. Backing vocals are delicately treated by 
Jenn Wasner
 (
Wye Oak
) on "For Sure" and 
Katrina Ford
 (
Celebration
) on "Born In A War" and "Thrill."
The overall theme of 
As Long As You Are
 is water; seeing the ocean, polluted rivers, figuratively keeping your head above it, and letting it wash you anew. On opener "Glada," named after a bird in Herring's partner's native Sweden, we hear the subtle sound of squawking birds at the beginning as he wonders "Do I deserve to see again, the slow lapping waves?" Herring comes full circle when he answers himself in album closer "Hit The Coast." After diving off the rocks into the water, the narrator of the first single "For Sure" is thankful that his lover is waiting when he rises up out of the water, bloody knees and all. "Plastic Beach" is a thank you to those who accept us for who we are, acknowledging that most of us are uncomfortable in our own skin.
Occasionally, 
As Long
 tackles the social topics on everyone's minds of late. "Born In A War" is about gun violence in America; "Raised up in a town that's 80 proof, Shotgun shells under every roof." Racism and 
Trump
-ism are at the forefront of "The Painter" as Herring croons "Fear has made you shallow, Hiding in your tomb." On "Thrill," he reflects on the battles of addiction and debauchery in Greenville, NC where some of the band members went to college.
Without reinventing themselves, Future Islands have delivered us an unexpected dose of deliverance with 
As Long As You Are
. It's an enthralling and introspective look at overcoming existential plights with truth and redemption. Sometimes the answers are found in the simplest places. "Who am I? Why do I deserve the sea again? After all I've done, And finding love in the end."