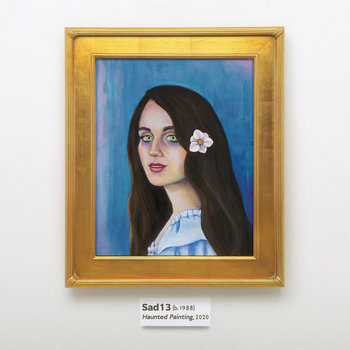 Art inspires art: whether the result is in homage to or a derivative of the original piece.
Speedy Ortiz
's
Sadie Dupris'
second outing as
Sad13
is a little of both. She became enamored with an early 20th-century portrait of Saharet, a dancer captured in ghostly pale complexion with a swirling mix of emotions behind her eyes. The hidden mysticism and spectral vibe of the work spoke to Dupuis and sent her down a clear, artistic path for her next work. Her mother even painted the album cover of Sadie in the style and theme of
Franz Von Stuck'
s piece. The fruit from this glamour is
Haunted Painting
, a complex conceptual album about ghosts and memories presented in synthetic bubblegum and power-pop beauty that would make
Debbie Gibson
and
Tiffany
proud.
Nothing on the album has as much hook-catchy goodness as "With Baby," a tribute to mall life and youthful crushes; as if Lois Lane was born into The Archies' universe. The rest of Haunted Painting is a mix of styles, combining ethereal orchestral arrangements with Top 40 pop melodies funneled through a Casio with the 80's synth option toggled on. "The Crow" is a dark, gothic keyboard-heavy song, juxtaposing a sinister sound against the heaviest rhythm section on the album. "Hysterical" is a takedown of your aunt who says political correctness is ruining comedy (on Facebook in all caps) and lays a poppy backbone under a xylophone and squeaky synth chamber pop. Album opener "Into the Catacombs" is a delicate string-filled musical reconstruction of an underground mass tomb, recalling XTC's Apple Venus Vol. 1. She wrote it after visiting the human rights Memorial Museum in Buenos Aires with her mother.
And that's the key: while the majority of Haunted Painting reflects on the past, it is still anchored in important social issues and politics - something Dupuis has always used her voice to champion. "WTD?" is a timely critique of the ultra-upper class, ignorance of climate change, and the very real result of politicizing the COVID pandemic. The song even opens with "Some of us are gonna die / faster than the other guys." With these infuriating actions in mind, Dupuis penned the sarcastically named "Oops...!" a Dismemberment Plan sounding song that honors retaliation against the abuse of power.

Haunted Painting is also a project almost completely done by women. Her mom made the cover. Dupuis oversaw, produced and played everything but drums, which were performed by Zoe Brecher. The record was released on her own label Wax Nine. And on top of all that, she consciously recorded the album in 6 different studios, exclusively with female engineers.
Art also imitates life. It is no surprise that ghoulish tones and dead memories offer the best canvas for expressing frustration and calling attention to today's ever-increasing doom and gloom state. And while it may seem that aggression would be a cathartic answer- like what Speedy Ortiz is known for, the fury is personal. As Sad13, Dupuis can present the topics exactly how she sees fit: fun music enveloping serious words. Thus, her concept album comes full circle. The fun music haunts us in a time where fun seems to have all but vanished.