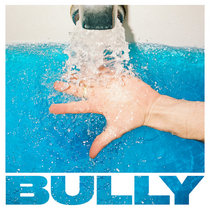 Asking for and accepting help are never easy things for most people, but singer/guitarist
Alicia
Bognanno
, who is now the sole member of
Bully
, has proudly done just that, becoming the better person she needed to be. She sought proper treatment for her bipolar 2 disorder and has broken free from the paranoia and self-doubt it caused her. The confidence boost has allowed her to step down from feeling the need to completely control her projects. She's proven that she could anyway since she wrote and produced the first two Bully records by herself. Recorded in both her home state of Minnesota and current home in Nashville, TN, she employed Grammy-winning producer
John Congleton
(
St. Vincent
,
Amanda Palmer
) to take the reins of her new album,
SUGAREGG
.
Fans of Bully's first two records won't find much to complain about here. Bognanno's signature gruff, powerful vocals remain in overwhelming supply, and her retro tribute to the alternative grunge/sludge, wall of sound production that she learned as an intern at
Steve Albini
's studio does not waver. But because she wasn't overwhelmed, her focus on songcraft was able to grow exponentially. Her vocals take on more depth, being occasionally sweet and tender, reminiscent of
Diet Cig
on both the fuzzy, plodding "Prism" and the jangly, poppy album-ender "What I Wanted." The stellar single "Where to Start" finds balances between her piercing, alarm-like vocals, and quiet, focused moments sung over a catchy, driving and distorted pop song.
The album as a whole organically combines the shoegaze droning of
My Bloody Valentine
with power-pop hooks of
The Runaways
, a "power gaze" genre that could define many of her predecessors. "Let You" allows the initial bass line to carry through relaxed sections intermixed by short, driving
Sheer Mag
-like blasts. "Hours and Hours" could be a lost
Nirvana
B-Side, with a slow, methodical bass line that is supplemented with echoing windy and eerie creaking effects.
Being in a self-realized and positive place has allowed Bognanno to reflect on her former self and write about the trauma and pain getting to where she is now. On the slow, loopy and sedated "Come Down," she looks back and remembers feeling trapped, singing, "I'm changing into a person I don't know." Recognizing this has allowed her to come out of her shell and produce her most raw and introspective music to date that carries both sweet and salty sides in balance.