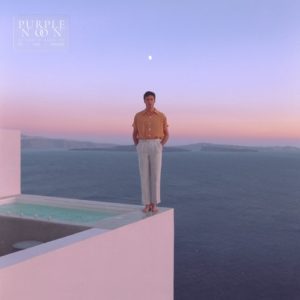 Picture a slow-motion video of raved-out twentysomethings running across a sandy Mediterranean beach at sunrise. This is the overall feel of
Ernest Greene
's latest output under the moniker of
Washed Out
.
Purple Noon
, his fourth full-length, oozes with moody, mellow beats tinged with his signature ethereal vocals, creating the perfect soundtrack for the end of summer.
The Atlanta-based Greene is back with
Sub Pop Records
for this release of 10 slick and polished tracks. Having garnered notoriety by supplying the theme song to the quirky sketch comedy show
Portlandia
("Feel It All Around"), Washed Out were at the forefront of the chillwave scene heading into the 2010s with their debut album
Within and Without
. Their second and third releases (
Paracosm, Mister Mellow
respectively) were a bit more experimental, incorporating samples and live instrumentation. Here on
Purple Noon
, Greene mostly plays it safe; nostalgic for the earlier work while not breaking down any new barriers. Lead single and opener "Too Late" does set the bar high with lots of synthy reverb on the chorus and some of his most discernible singing to date. Some dubby tropicalia-lite rushes in for the middle of the album on tracks "Time To Walk Away" and "Reckless Desires, " while a dreamy acoustic guitar allows "Game Of Chance" to make a stand on its own. Aside from these highlights, album closer "Haunt" is the track that steps most out of the comfort zone to introduce something new.
To quote Greene,
Purple Noon
is the narrative of a relationship "from an initial meeting, to early infatuation, all the way through the heartbreak." While some darker themes creep in, the subject matter generally suffers from over-sentimentality. On
Purple Noon
, Greene delivers more style over substance, but perhaps this summer, more than ever, we need this welcome escape into sun-kissed romanticism. Just pop on the headphones, slap on some sunscreen and drift away into the haze.