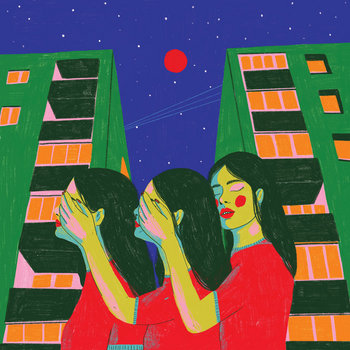 Earlier this month (insert "what day is it?" pandemic joke),
Diet Cig
released their follow-up album to 2017's
Swear I'm Good at This
. Also clocking in under 30 minutes (under 25 minutes, actually) the new album is just as easy-breezy a listen as its predecessor. While some things have changed, like their move from New Paltz, NY to Richmond, VA, and a couple years of heavy touring resulting in national notoriety, much of
Do You Wonder About Me?
frolics down the same stylized path with a smidge of growth and clarity.
The album's title is sung as the very first lyric in Alex Luciano's recognizable vocal fashion. Strutting about, explaining to an ex about how she's "Thriving" and no longer romantically attainable, Luicano's vocals hover, rise, and fall; evoking something between a whiny schoolyard melody and an emotive roller-coaster, capable of both naïve joy and uncontrollable fear in the same breath. "Who Are You?" adds handclap percussion to her fluttery voice as she sings an all too relatable refrain of "Who / are you / to say, 'I'm Sorry' / When / we both know you'll / do it all over again?"
This illuminates the big change on the new album: the lyrical content. While still broadcasting an intimate experience, the topics divert from melodramatic twee millennial observations on road trips, truck sex, zombies, baths, birthdays, and apricots to deeper, somber interpretations about relationships, anxiety, judgments and personal evaluation. As Luciano explained to American Songwriter, the album contains "a lot of introspective lyrics versus outwardly talking about other things around me." Luciano allows her psychological assessments of long-distance love to shimmer on short, slow Waxahatchee-like tracks "Priority Mail" and "Makeout Interlude."
It's honestly very difficult to listen to a Diet Cig album without picturing them live. It's missing Luciano's boundless energy and leg kicks a-plenty. So, with half the tracks here being less flailingly frantic, it's a wonder how the songs may translate live. Perhaps future shows will incorporate an acoustic barstool sit down section…just as long as they don't lose the aerobic rock n roll workouts.