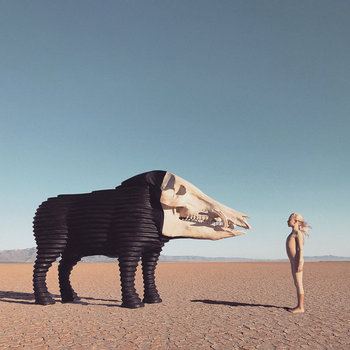 I'm not sure that
Dream Hunting in the Valley of the In-Between
is a
Man Man
album.
Ryan Kattner
(aka
Honus Honus
) left Philly for LA years ago and is now the only original Man. For the new album, Kattner recruited an entirely new band, saying in a possibly spiteful tone, "I finally found players who believed in me, trusted my vision, respected my songwriting" in the album's announcement. Furthermore, Kattner's 2016 solo Honus Honus album
Use Your Delusion
could be reclassified as Man Man under current circumstances. It fell perfectly in line with the evolutionary trajectory each album has taken away from the raw kitchen sink, fore-throat freak-outs that made up their 2004 record
The Man in the Blue Turban
.
Some songs that have distinct Man Man tones: The klezmer gypsy opening to "On the Mend" sounds like a track cut from
Rabbit Habits
. "Future Peg" owes a lot in cadence and delivery to
On Oni Pond's
"Loot My Body." And "Swan" is a quiet-but-bright piano ballad, mixing similar elements of
Pond's
"Curtains" and his solo album's "Will You?"
But
Dream Hunting
feels akin to
Danny Elfman's
earliest pre-
Oingo Boingo
days
,
the quick-change genre-mashing of
Mike Patton's Mr. Bungle
and off-off-Broadway vaudevillian musical numbers- all taken to the catchiest, most approachable degree possible. The surf and soul "Lonely Beuys" incorporates a quirky musical-like break mid-song, featuring call-and-response between cartoonish voices before launching back into the piano and guitar attack. For a few seconds,
Tom Waits
is channeled in the xylophone-heavy southwestern voodoo "Goat" which offers a highly visual (and partially non-fiction) story of a girl who fears she contracted Salmonella from a goat bite. "The Prettiest Song in the World" was birthed while Kattner was in the mindset of writing musicals, so it carries the free-flowing time changes of that style.
But it is the standout track "Powder My Wig" which combines these genres most clearly. What starts with a Bowie "Let's Dance"-style rising crescendo stops right before the climax to enter a plucked surf guitar and woodwind section sounding like the bonkers film The Forbidden Zone. The chorus possesses an imaginative stop/start time signature like angular post-punk played by a weird, old-timey hillbilly. All the while, there is an underlying rhythm section of an Oompah band. After layering in angelic backing vocals for a spell, the song breaks down into a Broadway musical rendition of the chorus as done by a line of jazz-hand can-can dancers. Throw in an orchestral string reprise and sprinkle in some customary Man Man piano hammering spasms, and you have quite a fine song (apparently worth a full paragraph!).
Dream Hunting… is a record filled with catchy but unique pop, doo-wop, and jazzy sounds with smatterings of their unhinged past peppered in here or there. Even the single "Cloud Nein" has a signature frenzied opening for about 15 seconds before it becomes more radio-ready pop. This is the reverse of their early records where the complex, off-kilter experimentalism was king and space was saved for one accessible song per album.
But that does not make this a bad album. It is beautiful and wonderful, hitting the sweet craving rather than salty. As Kattner said in the album's announcement, "You have to keep changing, evolving to survive." Nothing beats seeing their evolution in person and I yearn for the day that I can write down their next show date.