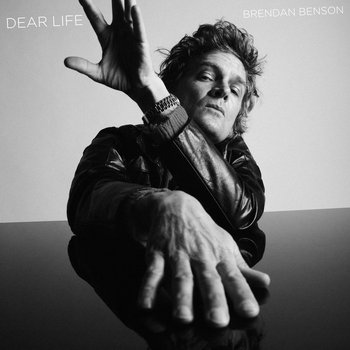 For over two decades,
Brendan Benson
has been making catchy pop-rock songs overflowing with guitars, keyboards and melodies. For his seventh album,
Dear Life
, Benson has some new sonic tricks up his sleeve. Benson had been sitting out of the game and spending time with his family for a few years, until he got the music bug again and started recording new songs at home. By playing with some digital recording elements he hadn't in the past, Benson gives these tracks unique colors not heard on his previous records, such as the child's voice sampled over the closer "Who's Gonna Love You."
However, he'd essentially completed the record before
Jack White
gave him the call to rev
The Raconteurs
back up, setting his schedule for most of 2019, which is why
Dear Life
is just arriving now.
The album starts off with the heavy "I Can If You Want Me To," immediately showing off the surprise hip-hop influence Benson says inspired some of the new record and getting your attention that this will be his most eclectic album.
Lead single "Good to Be Alive" is a tribute to thankfulness in this era where every bit of gratitude matters. Starting like a typical, mid-tempo keyboard ballad, the track takes a turn right onto the dance floor with a surprise disco vibe, before putting on the breaks again in the verses. "Richest Man" is another ode to appreciativeness, as Benson pays homage to his family in a sappy, yet heartfelt way, singing, "I've got two beautiful babies / One hell of a good looking wife / Got twice the love and half the money / And I feel like the richest man alive."
The title track isn't that far from
Beck
's song of the same name from a few years ago. Whereas he sang "Dear life, I'm holding on," Benson sings that "Dear life, I'm still hanging on." And with its big guitar sound, "I'm In Love" is the closest thing to a Raconteurs song here. You're just waiting for that Jack White solo to arrive.
Despite playing with some different tools in the recording toolbox, Benson's voice and way with a melody ensure that
Dear Life
fits well into the veteran musician's sturdy catalog.