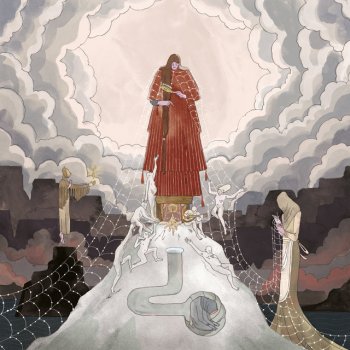 Purity Ring
make for a weirdly perverse soundtrack for the socially distant state we currently find ourselves in. Their lyrics have always explored and explained the human body through the language of Grimm fairy tales, and one of their most vivid and visceral early singles even invited listeners to crawl inside the maw of their open ribcage. New album
WOMB
, their first since 2015's solid, if safe,
Another Eternity
, continues to mine this idea of one's anatomy as a dark fantasy realm waiting to be braved, but in a relevant twist, goes more specific and internal with its focus. Simultaneously more intimate and more universal in its narrative, it shines its beacon on blossoming womanhood and the biological changes that accompany that coming of age, all while continuing to cultivate the cavernous, quietly influential soundscapes that we've always associated with them.
Like many a metaphor for womanhood to come out of art, be it musical or visual, things get bloody. Megan James doesn't mince words when describing the dark liquid that stains her bedsheets, but the songs containing those words betray wonder and wisdom, not horror. Part of that is due to James' delivery. Childlike yet ageless, it accurately depicts the sense of discovery and knowledge that can only come with the maturity achieved after adolescent transformation. The other part comes from Corin Roddick's production. It's still distinctly Purity Ring, but after attempting immediacy with the last album, his work on WOMB sounds more expansive yet also more patient, almost as if working together with James to demystify adulthood and femininity without downplaying the weight of either.
That said, this patience will also make you realize how good this duo was at bangers in the past. I'd be lying if I said I didn't miss the relative bombast of numbers like "Belispeak" or "Begin Again" this time around. Nevertheless, the highlights here reward repeat listens. "i like the devil" is a pleasant early surprise whose spiraling lumber of percussion and piano hints at new paths yet to be fully explored. Later on, "silkspun"'s somnambulist shuffle sounds like a sinister twin to recent Dua Lipa single "Physical," and closer "stardew," does CHVRCHES better than anything on Love is Dead did.
After Another Eternity hinted that the musical climate may have already caught up to Purity Ring in record time, WOMB proves them to still be a group with fertile, fruitful ideas well worth getting lost in for a few. Here's hoping it doesn't take another eternity for their next batch of them to gestate.
Purity Ring's Philadelphia date at Union Transfer has been postponed, with a new date TBD.