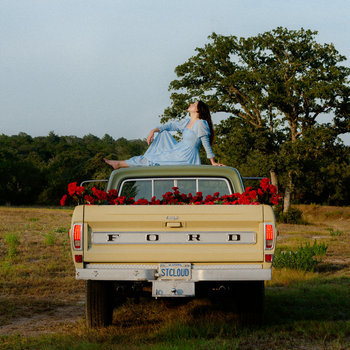 The writing was on the wall that
Waxahatchee
was headed in this direction for years. It's been calling to her since her early days growing up in Birmingham, AL, prominent on her parent's radio…
Loretta Lynn
…
Emmylou Harris
…
Lucinda Williams
. There were tastes of it here and there on her back catalog when she converted the poppy "La Loose" (
Ivy Trip
) to a quiet acoustic ballad live. Or in the sleepy acoustic saunter of "Fade" from
Out in the Storm
. Now, a year and a half into sobriety,
Katie Crutchfield
has returned to a version of her younger self with renewed clarity and has recorded a powerful yet intimately stripped-down Americana / Country album.
Named after the town where her father lives in Florida, Saint Cloud is a lofty, minimal, Jenny Lewis-like folk record that lets the listener appreciate the dynamic range of Crutchfield's voice. Recorded with Brad Cook (Bon Iver, Hiss Golden Messenger), who also produced her Great Thunder EP in 2018, he insisted on a simple production that allowed the songs to evolve around her style and voice, rather than forcing an unnatural direction.

Crutchfield's voice hums and soars with a calm confidence on the quiet, isolated title track "St. Cloud." "Can't Do Much" is an upbeat and lyrically awkward love song that lets her croon the chorus "I want you / All the time," penetrating the surface like a cool breeze over your soul. "Lilacs" channels Bob Dylan with specific turns of phrase before she flutters and floats off into the wind. Even on the most 'rocking' song, "Hell," Crutchfield recalls Dolly Parton's passion for intense relationship metaphor in a song that could be a reply from Parton's antagonist, Jolene.
Now living in Kansas City, Crutchfield has a new outlook on life and has tackled the demons that were making her a person she didn't like. Even though she said it was a tougher process to write lyrics this time, Crutchfield recently told Bandcamp that on Saint Cloud, "I've never hit the bulls-eye more than I did with this." So let the album transport you out of your house to a peaceful blooming field of flowers and wheatgrass (pollen-free), as we wait out the time until Waxahatchee's rescheduled October 5th show at Union Transfer.