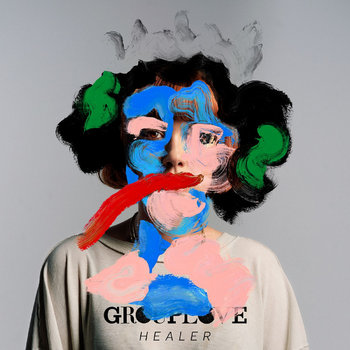 Life goes on and so does the music. A broad statement, yes, and one that applies to all active bands. However, what makes the listening experience interesting is how each band chooses to let these life experiences influence their artistic vision. For
Grouplove
's
Healer
, the band members have faced their share of issues, both personal and political. In its own way, the album feels like two halves of two very different records. Whether intentional or not, the collage art approach makes
Healer
a welcome addition to Grouplove's catalog.
None of this is to say that they've lost their sense of fun. The album opens with the one-two punch of "Deleter" and "Inside Out". The former expresses the need to rid one's self of the toxic people in your life while the latter tackles the simple realization that being in the moment with the one you love is the only way to live. Both songs feature catchy hooks and a driving percussive melody that makes it hard to tap your feet in approval.
"Youth" is an album highlight that really showcases the band's progression in sound. Working alternatively with producers
Dave Sitek
(
TV on the Radio
) and
Malay
(
Lorde
), there's a dreamlike quality to the song's production that is achieved by the juxtaposition of the live instruments with a trio of synthesizers. The bass line holds it all together from beginning to end while frontman
Christian Zucconi
urges us all to live our lives to the fullest. "The nights so young/Let's set it on fire/That's just my youth takin' over."
A lot of the album's material and themes draws from some very real-life experiences. The politically charged "Promises" is a reaction to the infamous family separation policies happening at the U.S./Mexico border (the song was recorded not far from an actual detention facility). Then there are tracks like "Ahead of Myself" and "This Is Everything," both written as a reaction to vocalist
Hannah Hooper
's recent brain surgery, from which she has now thankfully made a full recovery. Hannah has described writing as her form of healing. And despite the dire straights of her situation early on, the experience ironically produced some of the most positive material on the record. You can't ignore the genuine gratitude in her voice when she sings, "This is even more than I asked for/This is even more than I planned on/This is even more than I needed." It's a wonderful reminder that life keeps on giving whether you choose to recognize it or not.