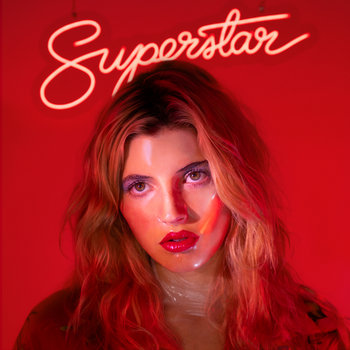 Caroline Rose
is a superstar of a shapeshifter. She introduced herself to the world as a country-folk-rock singer-songwriter, before reinventing herself on 2018's
Loner
. Rose mixed retro rock-pop sounds with satire, soul and swagger, giving us one of
Y-Not Radio
's favorite albums that year. For her follow-up, Rose changes up the script again, crafting a semi-fictional narrative about an individual seeking musical stardom, though sticking primarily to just one sound.
Superstar
starts this journey with "Nothing's Impossible," kicking off our story about a fame-seeker being "discovered" over some
Tame Impala
-ish keyboards. Full of grooves and post-disco pop influences, the album also gives us the slinky "Do You Think We'll Last Forever" over a very funky bassline and the jazzy keyboards of "Got To Go My Own Way." The languid "Pipe Dreams" is full of relationship 'what-ifs,' while our protagonist gets racy in "Freak Like Me."
"Feel The Way I Want" was the obvious lead single, thanks to its big hooky chorus. The video actually hits the album's themes harder, as Rose travels to Hollywood for her big break…only to find out it's in Hollywood, Florida.
Even the album art plays into her themes, with a plastic-y looking version of Rose's face, blurring the line between the fakery of a pop star and her actual human self. She Trojan-horses the storyline into much of
Superstar
. In the woozy closer "I Took A Ride," the narrator is searching for her 'true love again' – but in the context of
Superstar
, is that a person or the fame they've been chasing?
Part of the appeal of
Loner
was how eclectic the album is, jumping from soulful keyboard-based tunes like "Jeannie Becomes a Mom" to the surf rock of "Bikini." With
Superstar
, Rose essentially stays in one lane, keeping her keyboard on the same setting, while washing her vocals in a bit too much echo and reverb, often making it harder than it should be to keep up with her storytelling. However, it is an important step in a bigger picture of her musicianship, with the knowledge and expectations that she'll hopefully switch things up and keep surprising us for years to come.