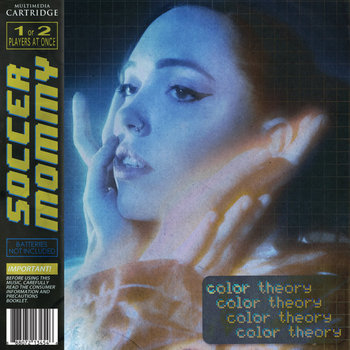 On the surface, 
Soccer Mommy
's new record is one cohesive collection of sad dream-pop tracks, often monotone, evoking feelings of being alone in a crowd or withdrawn intimacy. The delivery was crafted as a platform to allow singer 
Sophie Allison's 
exploration of her inner turmoil: depression, mental illness, and mortality. Using the term 
Color Theory
 as the album title, Allison assigns blue, yellow and gray (the color matrix that makes up the cover) to represent those states of mind in three sections.
Color Theory
 was lyrically and conceptually written by Allison while on tour supporting her debut album, 
Clean
. The grueling trek, countless nights of insomnia, and time away from her ailing mother brought out many of the emotions that would form the three-part sophomore album. It veers away from the rocking sensibilities of 
Clean
 (save the track "Crawling in My Skin"), but shows growth, as it was written and recorded as a full band in her native Nashville. A bit of that country sound comes out on the closing track "Gray Light," with slide guitars as she creates her own version of a country star with intimate, brooding vocals.
The album submerges sullen anecdotal and metaphoric themes in contrasting, optimistic musical tones, putting her in a class alongside 
Snail Mail
and
Petal
. "Bloodstream" kicks off the album's 'blue' section with a thoughtful delivery and chugging guitar. Allison sings of the unsolicited metamorphosis from carefree youth to a mentally confusing high schooler and not knowing who you are anymore.
Depression and mental illness can be complementary attributes, so 
Color Theory
 makes a smooth transition from 'blue' isolationism and self-deprecation to 'yellow' anxiety and unsolicited breakdowns. The longest track on the record, "Yellow is the Color of Her Eyes," is a lofty yet dragging shoegaze song that feels medicated on a cloud of Zoloft. Allison writes of her mother's battle with cancer, tackling the anxious feeling of never spending enough time with someone while doubting that the time you had was well spent.
The complications with her mother's health and family echo throughout the album, fashioning a seamless passage into the final 'gray' mortality section. "Lucy" was purposely released ahead of announcing 
Color Theory
 and offered fans a hand-held transition stylistically from album to album. It pairs edgy, watery sonics with the theme of making the right choices for yourself while death patiently waits just under the surface.
It can be hard to imagine all these swirling doubts, pressures, and fears pouring out of a 22-year-old musician, but honestly, we have all gone through some facet of ugliness in our teen years; each person carrying a unique set of shackled hurdles and tragedy. Soccer Mommy's Sophie Allison just has a poetic talent for putting her experiences to relatable song.