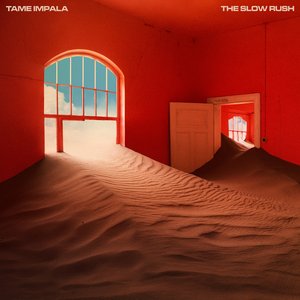 The wait is over! It's been five years since
Tame Impala
released
Currents
, their breakthrough psych-pop third album, and with the Valentine's Day release of
The Slow Rush
, we can all agree it was well worth it. A few morsels in 2019 revealed what
Kevin Parker
had been up to. Specifically "Patience," a single released earlier in the year that ultimately did not make it on to the full length, and "Borderline" which was debuted during the band's appearance on
Saturday Night Live
. "It Might Be Time," released late in the year, prophetically signaled the album's eventual release.
On
The Slow Rush
, Parker, known for his perfectionist studio wizardry, delivers an amazing psychedelic potpourri of disco, funk, soft-rock, '80s R&B, and '90s trip-hop. Fans of the nostalgia conjured up by
Air
and
MGMT
in the late '90s and early '00s will find lots to love here.
"Breathe Deeper" dives headfirst into some slinky "Sexual Healing" -era
Marvin Gaye
, while "It Might Be Time" evokes a long-lost
Supertramp
piano groove. "Posthumous Forgiveness" is a two-part ode to his late father, first as a
10cc
-esque sounding pronouncement of disappointment, and then as a synth-heavy reconciliation of sorts; "[I know] You're just a man, after all / And I know you have demons, I got some of my own."
Overall, the vibe on
The Slow Rush
is positive and uplifting. The man who was once a self-proclaimed loner (his second album was coined
Lonerism
) is celebrating newfound love and the prospects of a future filled with the best of what the world has to offer. On "Lost In Yesterday" he challenges those who cling to bad memories; "And you're gonna have to let it go someday / You've been digging it up like Groundhog's Day."
Knowing how fastidious Parker is, we might not get another album any time soon, but after four mesmerizing releases over the last 10 years, we've got plenty to revisit for years to come.