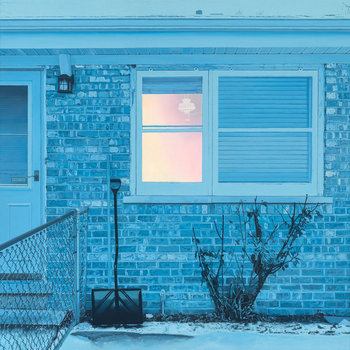 For the past decade, an alt-country/Americana revival led by talented musicians such as
Sturgill Simpson
and
Margo Price
has become one of the most notable subgenres in music. Thus, it's only natural that blends of that style with others would follow to media hype and critical acclaim. One minor trend is a merging of a roots sensibility into old-school indie rock soundscapes, exemplified by the buzz around bands such as
Ratboys.
This is a little unfair to the Chicago band, since they formed in 2010 and are on their fourth full-length album with
The Window.
Yet, they are the deserved recipient of a newfound audience with an album that pairs the best tendencies of fuzzy 90s guitar rock (think of bands like
The Lemonheads
) and earthy, confessional songwriting (think of
Waxahatchee
).
The two standout elements of
The Window
are the distinctive voice of frontwoman
Julia Steiner
and the sonic range of the band. Steiner's
singing is imperfect, but deeply passionate and her lyrics explore themes of love, loss, and alienation with remarkable authenticity. On album highlight "No Way," Steiner explains that she's "losin' track of the days, ain't nothin' new / I read every conversation, but I don't know what's true," getting at an understandable feeling of interpersonal confusion in a simple, but relatable way. A few minutes later, the track erupts with the repeated refrain, "there's no way you'll control me again" bringing a powerful catharsis to this tale of gaslighting.
The variety of the album is also noteworthy. Every song has a different tone and feel, ranging from the irresistible power-pop of "Crossed That Line" to the acoustic balladry of closing track, "Bad Reaction." Generally, the mid-to-up-tempo songs are the standouts. "Morning Zoo" has an enjoyable jangle and cool fiddle flourishes while "Making Noise for the Ones You Love" contains an intense, driving rhythm and a great hook. Meanwhile, "Black Earth, WI" earns its epic eight-and-a-half minute length with a druggy groove and impressive guitar work from Steiner and
David Sagan. Built to Spill
fans are sure to enjoy this tune. Credit should also be given to producer
Chris Walla
(ex-
Death Cab for Cutie
) for bringing out the best in the band, although a few songs such as "Break" feel slicker than necessary.
The Window
definitely seems like a breakthrough for Ratboys in terms of hype and the end result meets both the expectations and this changing moment in indie rock. The sincerity and ambition of bands like Ratboys
and the superficially similar
Wednesday
is greatly appreciated as a contrast to artists who choose glibness and gimmickry over songcraft. This window (excuse the pun) should be opened.
Ratboys are performing at
Johnny Brenda's
on Tuesday, September 26th.
**Donate $15 or more to Y-Not Radio to receive a download of The Window. Click here for details.