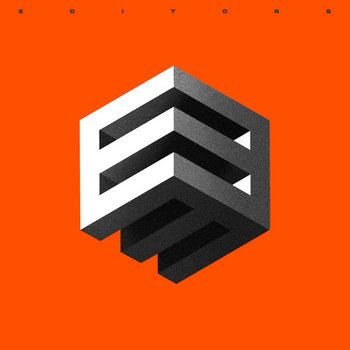 EBM
, the title of the 7th album by
Editors
, is an acronym for Editors
-Blanck Mass
, since the producer and former collaborator who goes by that name (aka
Benjamin John Power
) is now a full-time member of the band. This musical affair started in 2019 with the release of
The Blanck Mass Sessions
, a score of reworked songs, mostly from 2018's
Violence
. While the post-punk influences that punctuate Editors' early releases are still on full display here, BM adds an electronic goth-rave sensibility more akin to
New Order
or
NIN
circa 1989. The pace is frenetic across these nine songs, some topping the 6-minute mark, and
Tom Smith
's lyrics are still brooding and gloomy; the entire album is drenched with hedonism and a bone-shaking intensity that rarely lets up.
Right out of the gates, "Heart Attack" delves deep into the psyche of someone who will not let go of their lover, the chorus repeats "No one will love you more than I do, I can promise you that." "Picturesque" follows with a fierce and driving beat pushing into darkwave territory, finding the beauty in an emotional wreck. Reminiscent of "Magazine" from
Violence
, "Karma Climb" puts escapism on full euphoric display. At nearly 8 minutes, "Kiss" channels
Depeche Mode
, both musically and lyrically. It's an emotional song about deep love. "Silence" offers a brief respite at the halfway mark, a gorgeous, yet melancholic ode to the feelings surrounding isolation and the lockdown.
The second half of
EBM
includes "Strawberry Lemonade," a stadium-ready techno raver, and the epic closer "Strange Intimacy." Musical influences from bands like
Nitzer Ebb
and
The Cure
punctuate "Vibe" and "Educate," both songs sounding like typical early Editors songs, albeit with an electronic sheen. On
EBM
, their reluctance to stay in their comfort zone, like some of their early aughts contemporaries (I'm looking at you,
Interpol
), is what further propels Editors into their own visceral future, all without losing their core personality.
**Donate $15 or more to Y-Not Radio to receive a download of EBM. Click here for details.