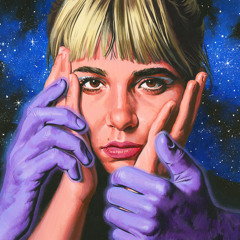 Beach Bunny
's
Lili Trifilio
 has been writing the same poppy teen drama songs since day one – and nothing has changed here on her band's new release, 
Emotional Creature
. Often her songs stir the feeling of déjà vu - "haven't I heard this song already?" Recall the empoweringly frustrated melody of the superb "Blame Game" off last year's EP of the same name? Well, it is recycled here in the optimistic "Love Song" with the chorus "I want to kiss you while everyone's watching." This is not a bad thing nor without calculation: each song with familiar sugary hooks could potentially be a single. Trifilio has become a pro at crafting the anthemic relatable chorus for fans to instinctively shout along with. The stand-out track "Weeds" begs for unison crowd repetition of the emboldened phrase "Not My Problem."
In fact, the songs on 
Emotional Creature
 are built around audience participation, which has become a fixture at their live shows. At one point in the sweeping ballad of "Scream," Trifilio pauses to let a sampled shriek fill the space, like an emoji replacing the lyric - something the audience will be more than happy to contribute. The approachable quality of Beach Bunny's music is inherently tied to Trifilio's focus on writing universally relevant relationship traumas via simple metaphor. She laments one-sided partnerships on "Weeds" by singing "prove that you can earn me," then on the swaying "Dead Weight" with "You cut like a knife through me emotionally," and on the start-stop pop-punky "Gone," exclaiming "But I'm tired of waiting on a telephone call."
However, where most of Beach Bunny's catalog has us rooting for the cynically scorn underdog, 
Emotional Creature
 is cleverly laid out to show that romance is cyclical. It also shows growth in Trifilio's writing and as an individual, by stepping outside of the self to view general patterns. To punch that thought home, the first and last tracks use the same verse that begins with "Running away through the rain makes your socks wet." Opening track "Entropy," with its 
Alanis Morrisette 
+ 
Semisonic 
90's throwback, the protagonist is excited for a budding romance to become public. And then "Love Song" closes the record out while gushing over the perfect partner. But where the first song naively sings "Somebody's gonna figure us out," the final track reshapes that sentiment in a knowledgeable reprise of "It all comes out eventually" (which is a reused lyric from the panic attack inspired "Eventually").
Emotional Creature
will only add to Beach Bunny's popularity. It holds that perfect balance of broken heart sincerity and earworm delivery, building from its own momentum like a whirlpool. The production sheds fuzzy arrangement and breaking vocals for a smooth punchy confidence, sure to draw in an even bigger fan base. But repetition is the key formulaic element here and is quite useful for the short
TikTok
attention span that has already garnered them increased fame. Fame which has taken them from playing in batting cages to The Fillmore in three short (including pandemic) years. All hail the Beach Bunny. They figured it out.